NOVEMBER 7, 2010
Red Bull wins constructors' title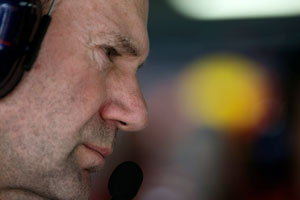 © The Cahier Archive
With one round of the championship still remaining, Red Bull-Renault has clinched the 2010 Constructors Championship.
After a disastrous race in Korea a fortnight ago, Red Bull bounced back and took a 1-2 victory at today's Brazilian Grand Prix at interlagos. Sebastian Vettel and his team mate Mark Webber were the class of the field in their Red Bull cars - Fernando Alonso in his Ferrari was the closest runner, 6 seconds behind after a late race Safety Car period closed up the field.
Red Bull takes it's first ever constructors championship win, just one year after taking their first race win when Vettel won the Chinese Grand Prix in April 2009.
Technical Director Adrian Newey told BBC television, "Well this is amazing, to have done it with this team from being a midfield runner to the point of winning the Constructors™ Championship is a real achievement for all the team in Milton Keynes. It was obviously the aspiration but I was far from sure that we could achieve it. Certainly the team didn't have the infrastructure of the big ones [when Newey joined the team]. When I joined Williams, and then McLaren, I was very lucky the teams had the infrastructure and you could just go about designing the car."
"Peter Prodromou and Rob Marshall need a special thanks for their efforts as head aerodynamicist and chief designer. They have made an enormous contribution to the car. Really it™s getting everybody to gel and work as a team together - it sounds corny but it really is to get everybody to work together as a cohesive unit. We had a quick car last year but just weren™t quick enough with double diffuser at beginning of the year."
œThis year has been the car has been quick but we have had a lot of problems, be it mechanical or whatever. We have thrown away a lot of points. I kind of started to lose confidence after Korea, which has to be one of my all time worst races."
Other stories for NOVEMBER 7, 2010