JUNE 26, 2012
Red Bull takes solace in Valencia speed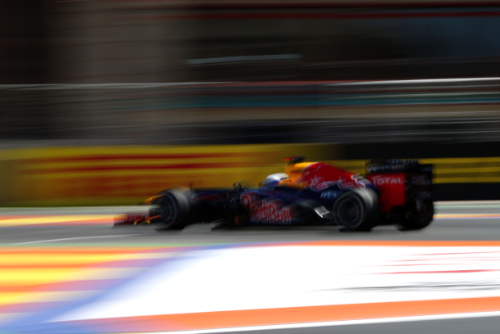 © wri2.net
Wide-ranging updates to Red Bull's RB8 saw Sebastian Vettel take a decisive pole position in Valencia and dominate the race prior to a rare mechanical problem. Mark Webber, after a troubled qualifying, drove from 19th to 4th. Team principal Christian Horner looks back on the race:
Q: Disappointment at losing a win or satisfaction at the performance?
We left Valencia knowing we've got a great car and Mark very much demonstrated that with his recovery. I think we see form fluctuate circuit to circuit but we've had three poles in three races and that's encouraging. We were in a commanding position and tyre degradation was very low. So on that side it's positive but obviously it's very disappointing to have a DNF - I think probably the first mechanical retirement we've had since Korea 2010. But together with Renault I'm sure we'll learn from it and hopefully you won't see a repeat.
Q: Were you surprised Sebastian opened up such a big gap?
In reality, yes, because we had a strategy going into the race, a target lap that we wanted to get him to, so Sebastian knew he needed to look after his tyres. He made it comfortably and even exceeded it, so yeah, it was surprising. Even when Grosjean got into clear air he was still dropping back. There looked to be about half a second a lap between the cars at that stage. Sebastian had built up a 20s lead, which was more than a pit stop, prior to the Safety Car coming out. It was frustrating to see a race like that slip away when you've got yourself into such a great position.
Q: Was the problem caused by the slow Safety Car running?
Until we do a proper post mortem it's pretty difficult to know. It manifested itself in that period but whether it was because of it, we need to look at all the data and all the hardware.
Q: Does the fact that Grosjean had the same problem as Vettel point to Renault changing something on the engine?
No. I think Renault, having had two failures with two teams, will have all the information and data and I'm sure that they will work with the teams to try and learn from it but it's not a new component introduced onto the engine. The alternator has been on that engine for quite some time.
Q: Did you plan Mark's race that way or react to events?
We effectively ran Mark's race in reverse. He started on the hard tyre and had two new sets of option tyres available to him. We wanted to make use of those at the back end of the race. He was unlucky not to get Schumacher at the pit stop and then he really made use of those tyres as others ran into trouble. Given a few more laps we were looking like a Montreal situation.
Q: Did you take the Schumacher DRS issue to the stewards expecting a podium?
Mark was very vocal on the radio that Michael had used the DRS and there was clearly a yellow flag on the right-hand side while Michael had it open. We know from bitter experience that you're not allowed to use it - Sebastian got a Drive Through in Barcelona.
Q: The team seemed pretty vociferous telling Mark not to use DRS?
We learned the hard way in Barcelona and then Charlie has made it very clear in the briefings that the DRS can't be used in a yellow flag area so, in the heat of the battle with Michael, we were just wanting to remind Mark, don't go near that button!
Q: How has Sebastian taken the disappointment?
He came over to the pit wall and just wanted to reassure everyone that we had a quick car and that we'd learn from it. I think he took solace in his performance - he'd done everything right and the car was running very quickly. It's a long championship and Fernando's done a tremendous job, scoring in every single race, but statistics say that he's got to have one bad weekend in 20 and it will hopefully balance itself out over the course of a season. For sure it was disappointing to retire from a race like that but we extended our lead in the constructors championship by a further eight points.
Q: What do you expect at Silverstone?
Silverstone is a completely different nature. It'll probably be wet! I don't know, is the short answer. I think the car is pretty strong in most conditions now and we'll keep pushing. Hopefully we can be strong but Fernando was tremendously quick there last year, certainly in the second half of the race, so it'll be an interesting weekend.
Other stories for JUNE 26, 2012