JUNE 23, 2009
Mosley remains defiant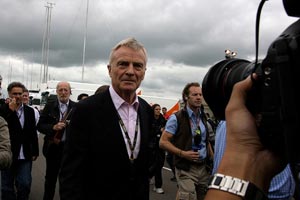 © The Cahier Archive
Max Mosley was never going to give up without a fight and he has responded to rumours of a coup d'etat against him at the FIA by writing to all the member clubs justifying his actions and seeking their support. Mosley says that "the dissident teams" (he has now stopped using the expression "loonies") aim to have him resign as FIA President.
Mosley said last year that he would not seek re-election in October 2008, as part of his campaign to save his job after the sex scandal in which he was embroiled. However, now that he is under attack, he says that feels the need to stay on to fight for the FIA.
"In light of the attack on the mandate you have entrusted to me, I must now reflect on whether my original decision not to stand for re-election was indeed the right one," he wrote. "It is for the FIA membership, and the FIA membership alone, to decide on its democratically elected leadership, not the motor industry and still less the individuals the industry employs to run its F1 teams. This is an attack on the FIA's right to regulate its F1 World Championship but, worse, it is a wholly unjustified criticism of and direct challenge to the entire structure and purpose of the FIA. No president of the FIA could allow this to go unanswered."
Mosley has gone back to arguing that legal action is the way ahead and says that the federation is preparing for that.
The biggest question is whether the FIA clubs that are opposed to Mosley will be joined by others, worried about what is happening in F1. The FIA has long been a federation in which the member clubs depends on the FIA leadership for certain things which are vital to their interests of their country and their ASN - an important rally, for example. If they do anything which causes upset there is the danger that they will lose the one thing that is vital to them. So they tend to think that it is in their interest and the interest of their club to go along with the leadership. The fact that no-one has stood against Mosley is not because they all agree with him but rather that the consequences of such an action could be adverse to their interests. However, as was seen back in 1991 when Mosley defeated incumbent Jean-Marie Balestre, if they feel that the sport is threatened they will turn against their leader.
At the moment the FIA Formula 1 World Championship boasts Williams F1, Force India, US F1, Campos Grand Prix and Manor Grand Prix. This is not going to be a package to excite the many race promoters. This grid could be bolstered if Williams agreed to build monocoques for other teams, but the race promoters can easily argue that the package they are going to receive is not what they were contracted to get. At the same time there is little logic in William going down this route as its sponsorship is, to some extent, dependent on who they are racing and their contracts with the FIA and FOM might also be deemed invalid if the opposition is not better.
The FOTA teams say that it is irrelevant who is running the FIA unless that person is willing to negotiate with them. There are a variety of different ways in which a FOTA series can be sanctioned, with or without FIA help, and FOTA seems to be happy to embark along this path. The FIA membership, worried that the federation may become irrelevant without a strong F1, may not wish to see that happen and with Mosley clearly the stumbling block, it may be that a move will be made to change the existing structure.
Other stories for JUNE 23, 2009