JANUARY 30, 2011
Mercedes releases sneak-peak of W02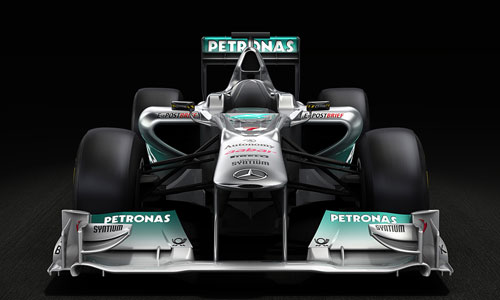 Mercedes has released a sneak peak of its 2011 Formula 1 chassis, the W02, before it's first public showing on Tuesday at Valencia.
Mercedes is one of several teams that is not holding a full launch this season, but is instead revealing the car in a low-key fashion at the first winter test. But getting the jump on the other car launches starting tomorrow morning, Mercedes has issued a computer-generated image of the car shown from the front, showing a high nosed chassis with a conventional airbox.
After winning the championship in 2009 as Brawn GP, last season's Mercedes chassis was a disappointment, and the team hopes to have solved the problems which left the car off the pace.
Other stories for JANUARY 30, 2011