NOVEMBER 22, 2010
Mateschitz reveals Vettel's Ferrari leanings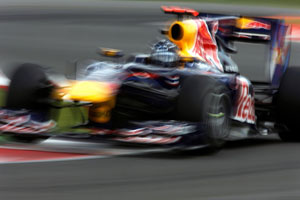 © The Cahier Archive
Red Bull boss Dietrich Mateschitz has told a German newspaper that new world champion Sebastian Vettel harbours an ambition to drive for Ferrari one day. Mateschitz added, however, that Red Bull Racing aims to make any decision to move to Maranello "as difficult as possible."
Vettel, in a column for Bild in Germany, has referred to Ferrari and Mercedes as the "past, present and certainly the future of F1." His current contract with RBR expires at the end of 2011 and Mateschitz is keen for Vettel to sign a long-term extension.
Since buying Jaguar at the end of 2004, Mateschitz's investment in the team and Christian Horner's leadership has seen the recruitment of design genius Adrian Newey and the creation of an infrastructure strong enough to take on and beat established teams such as Ferrari and McLaren in a period of just over five years, which is impressive.
Mateschitz is confident, therefore, that continued provision of a competitive car is all that will be required for Vettel to stay. Along with the fact that Ferrari has a commitment to Fernando Alonso which, he believes, is unlikely to see Maranello try to partner the Spaniard with Vettel.
Mateschitz also said that in the event Red Bull could not provide Vettel with competitive equipment, the team would not stand in his way. "We would let him go even if he had a contract," he told Germany's Welt am Sonntag newspaper.
Vettel's mentor, Austrian Helmut Marko, added: "We all know the political sensitivities at Ferrari and Sebastian has seen with us that he has a comfort factor. He needs a team that doesn't throw a knife in your back at the first sign of trouble. There is not going to be a 10-year contract because we can't guarantee we will have a competitive car for that long, but in the medium term, the next three or four years, we are firmly planning to be with Sebastian."
Other stories for NOVEMBER 22, 2010