FEBRUARY 5, 2013
Marussia unveils MR02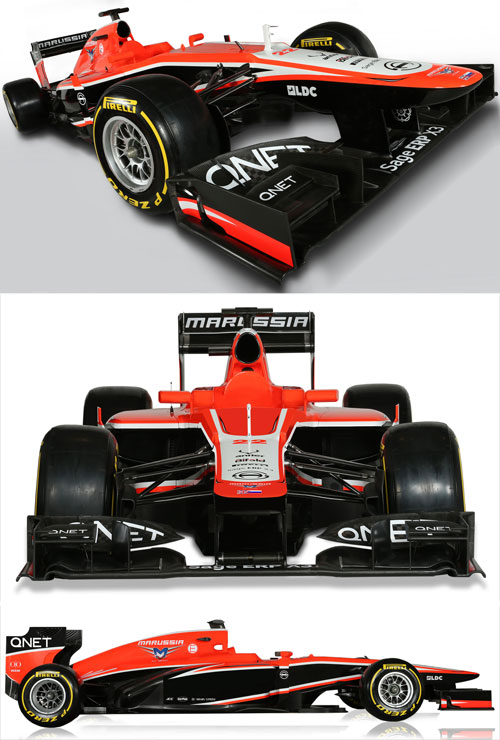 The Marussia Formula 1 team unveiled their new 2013 chassis, the MR02, at Jerez today.
The car was launched in the pitlane of the circuit, in preparation for winter testing, which begins today. It is the first car completed since former Benetton and Renault man Pat Symonds joined the team as a consultant.
Max Chilton signed for the team late last year, and after dropping Timo Glock the team picked Luiz Razia to take the second seat. Chilton will debut the car today.
The new car boasts using the Williams KERS system for the first time, and the team hopes this will improve their chances.
Team Principal John Booth said, œWe embark on the first pre-season test of 2013 feeling very positive about our new car - the MR02 - and what lies ahead in this next important chapter in the development of the Marussia F1 Team. Whilst we have experienced some changes over the winter, the one area of stability we have enjoyed is the one that is most important to our progression from here, the design of our 2013 race car, led by our Technical Director Pat Symonds. The incremental steps we were taking in the latter half of last season gave us the confidence to not only fight hard for 10th place in the Constructors™ Championship, but to feel encouraged by our overall design direction, which was the basis for the car we are fielding here in Jerez today."
œWe are confident that the MR02 is the product of evolving elements of last year™s package whilst integrating the new KERS system. It was said many times during 2012 that, notwithstanding the impressive steps we were taking in other areas of our development, KERS - or the lack of it - was the defining factor in determining our position relative to our immediate competitors. KERS was however a ˜strategic omission™ from our package until now; we opted to place the emphasis on aerodynamics, so that when we were in a position to bring the system to the car, we already had the strongest possible basis and its integration would be relatively straightforward. Thus far, this has certainly been the case, as our trackside engineering team have spent the winter refining their tools and preparing for the addition of KERS to ensure we can hit the ground running with effect from this week and use the short period of testing we have to get the car optimised for Melbourne."
œIt is early days in our pre-season development programme but there is a great deal of optimism amongst the Team for what lies ahead. With that in mind, we all look forward to seeing the MR02 make its on-track debut later this morning.
Other stories for FEBRUARY 5, 2013