JUNE 1, 2010
Marko: Vettel Had To Take His Line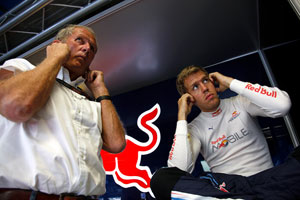 © The Cahier Archive
Helmut Marko, Red Bull owner Dietrich Mateschitz's right-hand man at Red Bull Racing, sided firmly with Sebastian Vettel in the aftermath of the coming together with Mark Webber that eliminated the young German from the Turkish GP.
"Sebastian was ahead already and there was a left-hand corner coming, so he had to go to his line," said the former seventies F1 driver whose promising career was cut short when a stone thrown up by Emerson Fittipaldi's Lotus cost him an eye.
Marko was clearly intimating that he thought Webber should have let Vettel move right onto the racing line, rather than make him drive on the dirty part of the track approaching the braking area for the forthcoming corner, despite that being a standard tactic among drivers.
Marko added: "It was unnecessary, the whole situation. It wasn't one where we were racing each other, we were under enormous pressure from the McLarens. They were much faster on the straights and so we had to gain our advantage in the corners. Sebastian had to attack otherwise he would have been overtaken by Hamilton. It would have been completely different if the McLarens had been 10 seconds behind, but that wasn't the case."
It is now clear that Vettel caught Webber so rapidly on the lap of the collision because the two cars were running different engine maps, Webber having turned his engine down to save fuel. Team principal Christian Horner denied such a thing in the immediate aftermath of the race, but at a time when he was not in possession of all the facts.
That prompted speculation that the team's intention was for Webber to cede his lead, with Vettel maybe expecting little resistance. Marko, meanwhile, was cagey about whether or not such an instruction had been made to Webber. "Obviously there was not the right communication going on..." was all that he would say.
Marko's explanation for Vettel suddenly being able to close down Webber was this: "I think it was a question of tyres, that Mark's tyres weren't as good at this time. But Vettel was under enormous pressure from Hamilton and had to do something otherwise Hamilton would overtake him."
Marko admitted that Mateschitz was "not amused" by the coming-together but denied that the incident would now cause a full-scale rift at Red Bull, with one faction getting squarely behind Vettel and the other supporting Webber.
"That's not true," he said. "We are handling our team and both drivers in the same way. But again, Vettel was under so much pressure and if this situation comes up you have to look at it as a team. We still could have been 1-2."
It is widely held that Vettel, a long-time Red Bull protege, is the team's favoured son.
Other stories for JUNE 1, 2010