OCTOBER 12, 2010
Korea given FIA green light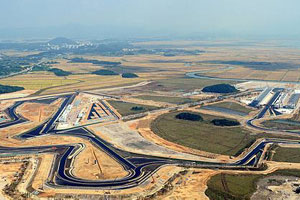 Photo: Korean GP
The FIA has given the Korean Grand Prix approval to go ahead following a two day safety inspection.
There has been much speculation in recent weeks whether the October 24th race will actually take place, as progress in finishing the circuit had been slow. FIA race director Charlie Whiting has put-off making a final inspection of the circuit to give the Korean organisers more time to finish.
Whiting traveled to Korea following Sunday's Japanese Grand Prix, and spent two days at the track. In a statement issued by the race organisers, Whiting said, " is satisfactory, and I will issue the license through (ASN) KARA."
Yung Cho Chung, the promotor of the event said, "We are delighted that all works are now finished to the complete satisfaction of the FIA, and we join the whole of Korea in welcoming the Formula 1 fraternity to the Korea International Circuit for the first time. The KIC has been constructed to the highest standards, and will become the epicentre of motorsport in the country. We believe the Korean Grand Prix will be the catalyst to ignite enormous interest in the sport across the nation."
Current aerial photos of the track show that much of the infrastructure surrounding the site are not complete, but the final layer of asphalt has been laid.
If all goes according to plan the inaugural Korean Grand Prix will take place on October 24th.
Other stories for OCTOBER 12, 2010