JANUARY 6, 2011
Karthikeyan to drive for HRT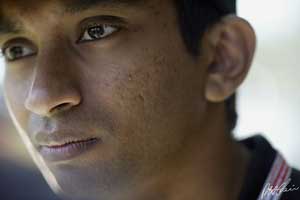 © The Cahier Archive
Narain Karthikeyan has told the Indian press that he has signed a deal to race for the HRT team in 2011, although the Spanish-based team has yet to announce it.
Karthikeyan said, "It's been a while in the making, but I am delighted to be racing again in Formula 1 in 2011. I have always maintained that I have not given up on my desire to return to the top level of motorsport. I am confident that I have the pace, the fitness and the will to succeed in Formula 1. I am extremely grateful to the Tata Group, without whose unwavering support this comeback would not have been possible. I'm looking forward to racing for HRT and to working again with Dr Colin Kolles. We have a long standing and excellent working relationship together."
Karthikeyan last raced in Formula 1 in 2005 for the Jordan team, scoring his only points with a fourth place in the shameful United States Grand Prix, in which all the Michelin runners pulled out of the race after the first lap with tyre concerns. Karthikeyan then spent two seasons as a test driver for Williams.
Rumors have it that Karthikeyan is paying in the region of 8m Euros for the seat, and that the team is looking to find another driver to pay the same amount for the second seat. The top candidate for the seat is Vitantonio Liuzzi, which rumors indicate that Force India may be willing to buy the seat for the Italian in order to avoid legal trouble - as he currently holds a contract to drive in 2011 for Vijay Mallya's team, and this will clear the way for them to pick two other drivers. There are confirmed reports that Liuzzi's manager Peter Collins was seen at HRT's facilities around Christmas.
The other front-runners for the second HRT seat are David Valsecchi, Rodolfo Gonzalez and Fairuz Fauzy.
Valsecchi - who won the GP2 Asia Series last year and scored a pole position and win in the final round of the main GP2 series - impressed the team when he tested for them for a day and a half in Abu Dhabi in the fall. Rodolfo Gonzalez drove in GP2 last season and has access to sponsorship from the Venezuelan government, while Fairuz Fauzy was dropped as the third driver for Lotus but still has considerable backing in Malaysia.
Other stories for JANUARY 6, 2011