MARCH 18, 2010
Jumping to conclusions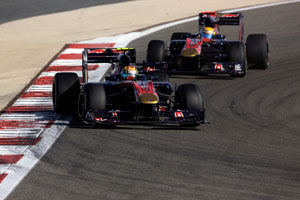 © The Cahier Archive
There were high expectations leading into the Bahrain Grand Prix by F1 insiders and fans alike of close competition in 2010, but since the first race the general feeling spreading in the media is that the race was "boring" and there have already been calls to introduce rules to make the racing more exciting.
Red Bull driver Mark Webber said: "It got pretty boring. I spent 48 laps staring at the gearboxes of first Schumacher and then Button, and there was nothing I could do to pass them. I tried everything ''  ® different lines, pressure, everything - but they're both good drivers and neither of them made a mistake. I was pretty shocked by how hard it was to overtake, and it doesn't bode well for any of the one-stop races on the calendar, when everyone is going to be following pretty much the same strategy. We can only hope that other circuits will lend themselves to overtaking more than Sakhir." And the Australian was also commented on his twitter page: "Wow! New rules, not sure huh? Why do they keep dicking with it?"
Many think that F1 is in danger of loosing it's audience if it does not react immediately. Mercedes GP's CEO Nick Fry commented: "I think we have all seen a race that was far from the most exciting that we have ever seen, and what we now need to do is between us have a look at it and establish what we do need to do. Technical changes are obviously very difficult to make, and expensive. But I think we should look at both the technical side and the sporting side, with Bernie and the FIA, and see what we can do about it. The most important people are the customers - they are the people who pay to come to races, or watch it on television. We are beholden on them to put on a good show and we should see what we should do."
But F1 boss Bernie Ecclestone has insisted that the sport should not over-react: "There is no panic, no crisis for F1. I think there is nothing we can do immediately and we should not just knee-jerk into changes. We are involved in four flyaway races just now so let's see how the teams adapt and look at it again after China. The first race with new regulations was always going to be a learning curve for them all. Now they know they can make improvements and be a bit bolder and we will get more action."
We tend to agree with Ecclestone on this mater. It was pretty clear during the entire race that drivers and teams were playing a very conservative game, unwilling to take any risk that could cost them dearly. This being the first time anyone started a race with full tanks and in extreme heat - with track temperature running over 40 degrees celsius during the race - no one knew how the tyres would last, nor were they willing to find it the hard way. So the drivers just sat behind whoever they were following without making a serious attempt at passing, for fear of terminally damaging their tyres.
It took until lap 28 for the alarm bells to ring. Being the only driver on a two-stops strategy, Toro Rosso's Jaime Alguersuari started his last stint on the attack and immediately set the best lap of the race until that point. He was the first man to run under the two minutes mark and was nearly half a second quicker than race leader Vettel best lap at that point. As Alguesuari's car was around 1.5 seconds slower than the best around the Sakhir track it was clear to everyone they could go much faster than they had been up to then.
Teams passed the message to the drivers and right on the next lap Alonso set a new lap record, 0.4 seconds quicker, and nearly 0.9 seconds better than his own previous best - a clear sign that teams and drivers were playing a waiting game, for they didn't know how the tyres would last the distance. Going forward they will have enough data to push harder on the other tracks and we should be able to see more aggressive strategies and moves during the races.
The other element that needs to be considered is that the Bahrain race hardly ever gives us very exciting races, even though there are a couple of clear overtaking points, so if one compares the 2010 Bahrain Grand Prix with the previous six races held on this track, one comes to the conclusion this year's race was on the same level of excitement as the others we've had in this Arab track.
So the message has to be - let's wait for the next couple of raced before we jump to conclusions and start changing the rules to artificially spice-up the racing. Knee jerk reactions are hardly ever wise, so we need more data to predict how the rest of the season will unfold and changes should be made after it's truly clear that racing in 2010 is not as exciting as it should be.
Other stories for MARCH 18, 2010