APRIL 19, 2012
Interview: Vettel on Bahrain GP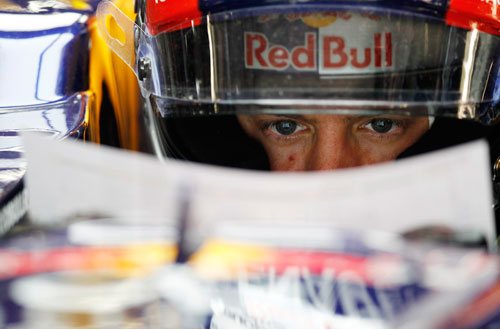 © Active Pictures
World Champion Sebastian Vettel heads into the Bahrain Grand Prix fifth in the world championship after a difficult start to his bid to be the only driver other than Juan Manuel Fangio and Michael Schumacher to win three successive world championships. In Bahrain, he will run the latest specification exhaust exits, after reverting to the initial RB8 layout in China. He answered questions on matters of the moment in the Bahrain paddock.
Q: You and Mark (Webber) now have the same exhaust configuration. Is that your decision and is there something you're not happy with?
It's something we decided together. We've decided it's the better solution.
Q: Is it a problem for you because you have not felt comfortable with it?
Not really. I think it was a good test in China when we ran different specifications. Obviously that was a pretty different weekend in terms of conditions - cool - but as I said, it's a better direction to go. It was a good back-to-back test for us. When we introduced it in testing we didn't have the best two days until the end of testing, so that's fine. I think China was a fair test.
Q: What in particular about the balance do you dislike?
Generally I think the car is a bit too nervous and I felt happier in China. We only had one week in between and it's a big change for myself, so we'll see how we get on. This is a new weekend - different track, different conditions, pretty hot. We'll see. Let's hope we can make a step forward in qualifying, which seems to be our weakness at the moment. In race pace we don't seem to be that far off.
Q: Would you agree that last year you got on better with the blown diffuser car than Mark, and that now the performance between you is more like 2009/10?
I think it depends a lot on how you feel in the car. I didn't have a good last day of testing and in Australia/Malaysia I wasn't happy with the feeling, the car was pretty nervous. I think it has been the same for both of us. I don't think it's fair to say that I've been all over the place and Mark has been perfectly happy. Obviously we sit and talk about what is going on and surely we weren't happy, both of us. In qualifying I feel a little bit less confident and comfortable than last year, not necessarily talking about the results but about how things come together. That's one of the main things we need to work on and then I should be in a better place.
Q: Is it a problem improved the car for qualifying without compromising the race?
It's not easy but, yeah, we seem to be more competitive in the race than in qualifying anyway. It's not as if we need to just find the right qualifying set-up and then happy days. I think we just need to improve the car as a whole and there is more of a weakness in qualifying than in the race. Obviously in qualifying there's other factors as well, like DRS, and maybe some teams playing a bit more than we do. We'll see where we are this weekend and then hopefully know a little bit more. We've got a bit of time after that, a test in Mugello where we can try different stuff, and the next weeks will be crucial in determining which way we are going.
Q: Did China give the engineers some good direction?
It gave us some very good information about the balance of the car because generally I felt happier pre-season than in the first two races. China to some extent was a different event, significantly cooler, and if you look at the general result some people were more competitive than at the first two races. Whether that's completely down to the conditions or not we will see this weekend, but it gave us some very good answers, which to be honest we had already, but it was confirmation.
Q: Nico Hulkenberg said that it's not right for people to be put in the situation that the Force India team was with the fire bomb. What's your view?
I didn't speak to him but I heard about the Force India issue. I think, generally, being in the paddock seems to be no problem. Sure, outside of the paddock maybe there is a risk, but there is a risk everywhere we go. You can imagine when we go to Brazil it's not really the place we want to be as well, depending on the area, so it's not a big problem. I'm happy once we start testing tomorrow and start worrying about the things that really matter - tyre temperature, cars... (delivered with an ironic(?) smile).
Q: Would your opinion change if, on the way home, a petrol bomb landed near your car?
I don't know, it has never happened to me and I hope it doesn't.
Q: Doesn't this seem like a parallel universe when fire bombs are being thrown?
I don't know. I don't think it's that bad. It will be good when we start our job here, which is sport.
Q: It is real though, so how do you react to the people and the moral arguments?
I haven't met them yet. Maybe it's because I only arrived this morning but I haven't seen much of what people are talking about.
Other stories for APRIL 19, 2012