MARCH 30, 2011
Hamilton unhappy about Red Bull front wing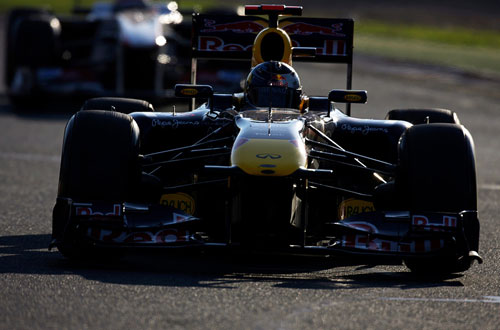 © The Cahier Archive
Red Bull Racing's front wing is again the subject of controversy as Lewis Hamilton suggested that the team is exploiting a loophole in the regulations that everyone will have to copy.
The issue is not new. It gathered momentum in the middle of the 2010 season when McLaren in particular was vocal about the Red Bull RB6 front wing and, to a lesser extent, Ferrari's, running closer to the ground than intended by the regulations and hence giving a downforce advantage.
Hamilton was pictured taking a close look at the front wings of both the Red Bull and his own car in parc ferme after the two cars had finished the race 1-2, ahead of Vitaly Petrov's Renault. Red Bull's mechanics had been patching up damaged wings earlier in the weekend, possibly as a consequence of them running so low. In Australia teams were also requesting TV footage to make comparison studies of the heights of the different front wings.
Last year the issue caused the FIA to introduce tougher deflection tests for wing flexing but these were passed by all cars, including the Red Bull. It has been speculated that Red Bull may be using some material that deflects in accordance with the regulations but does not deform in a linear manner, allowing it run lower when under higher load. The more stringent deflection tests were meant to discover whether that was the case, but nothing untoward was discovered.
Other stories for MARCH 30, 2011