APRIL 4, 2011
Four pit stops if Malaysian GP is dry?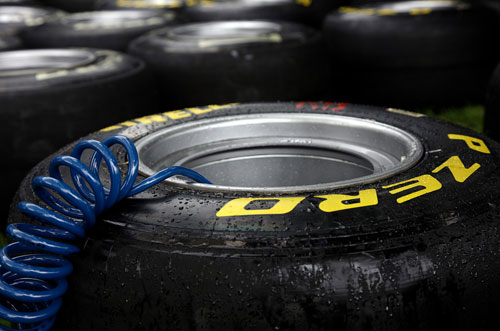 © The Cahier Archive
After a successful F1 baptism in Melbourne, Pirelli is predicting that the demands of the Malaysian Sepang circuit will lead to more pit stops in the second round of the F1 World Championship this coming weekend.
Pirelli will field the same tyres as it did in Australia - ie, the prime tyre will be its hard compound and the option tyre, the soft. They will also provide teams with an extra two sets of an experimental hard compound slick for evaluation in Friday practice, although allocation beyond that is unchanged.
"We were absolutely thrilled by our grand prix debut in Australia, but we're aware that Malaysia should be a very different proposition, with higher temperatures and increased degradation," said Pirelli's motorsport director Paul Hembery. "We said all along that we would be seeing two to three pit stops in Australia, but in Malaysia I think that figure is likely to increase to three to four."
The provision of the extra two sets of experimental 'future' hard tyres on Friday could be viewed as an insurance measure in case the intended hard compound proves less durable than expected to a problematic degree in the Malaysian heat.
With ambient temperature typically over 35C and track temperature often approaching 50C, Sepang is demanding on tyres due to its aggressive surface, heavy braking areas, long straights and wide variety of speeds and corners.
Humidity generally exceeding 80% also makes rain a strong possibility at some point during the weekend. In 2009, the race had to be red-flagged after 31 laps due to torrential rain, while last year a number of drivers were caught out by a downpour during qualifying. Pirelli's intermediate and wet tyres therefore also stand a strong chance of being called upon.
Looking ahead to the weekend, Jenson Button said: "Sepang really requires a lot of high-speed stability from the tyre. The situation will be a bit trickier and I think we'll see higher degradation and pit stops. It's a highly abrasive track, so the fronts and rears will suffer."
Other stories for APRIL 4, 2011