FEBRUARY 28, 2013
Force India announces Adrian Sutil in second seat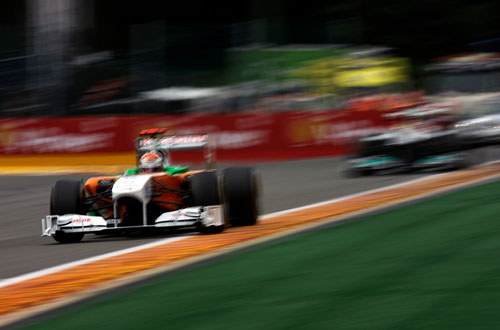 © The Cahier Archive
The Sahara Force India-Mercedes F1 team has officially announced that Adrian Sutil will once again join Paul di Resta to drive for the team.
It will be Sutil's fifth season with the team, and the deal was finally done after much speculation in the off-season that other drivers including Jules Bianchi were in the frame for the seat.
Sutil will be back in the Force India car on Friday and Saturday, with Di Resta taking over on Sunday at the Barcelona test.
Team Principal, Dr. Vijay Mallya said, "The decision over our driver line-up has not been an easy one and we have given it great consideration over the last few months. It was a close call, but ultimately we felt that Adrian's experience and historic links to the team gave him the edge, and will provide us with the best possible chance of realising our ambitions for the coming season. If he can rediscover the exceptional form he showed in the second half of 2011, I'm confident that we can pick up where we left off at the end of 2012. As for Jules Bianchi, he has impressed us enormously with his speed and work ethic, and I'm hopeful we can continue working with him this year to help him develop into a future Grand Prix driver.'Ï
Adrian Sutil said, "I'm delighted to be back in Formula One, especially with a team I know so well. I'm very happy and I want to thank Sahara Force India for giving me a second chance. Having been away from the sport, I'm even more determined to achieve my goals in Formula One. Things went really well at the Barcelona test last week and it almost feels as though I've never been away. Driving the car felt so natural and I was able to get back in the groove quickly and find the limit. Now my focus is on making the most of the final test session this week, working with the team in the simulator and getting myself in the best possible shape for Melbourne.'Ï
Other stories for FEBRUARY 28, 2013