JULY 8, 2012
Fines for Maldonado and Kobayashi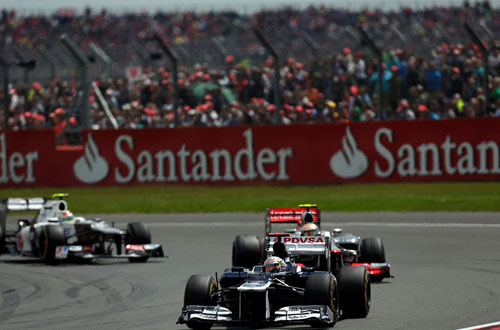 © The Cahier Archive
Pastor Maldonado and Kamui Kobayashi both collected hefty fines for their indiscretions in the British GP.
Maldonado, who collided with an irate Sergio Perez (see separate story) received an FIA reprimand and a 10,000 Euro fine from the race stewarding panel, which included multiple British GP winner Nigel Mansell.
Kobayashi, meanwhile, hit a number of his Sauber pit crew when he locked up entering his pit and collected a number of the crew waiting to change the right front wheel. The front jack man also took a tumble taking evasive action.
"It was totally my fault, I locked up, and I apologise to the team," Kobayashi said.
The Japanese driver was fined 25,000 Euros for "unsafe entry to a designated pit area." Fortunately there were no serious injuries, with one of the Sauber personnel involved suffering a dislocated thumb and the others, bruising.
Other stories for JULY 8, 2012