DECEMBER 15, 2008
Farewell Flav?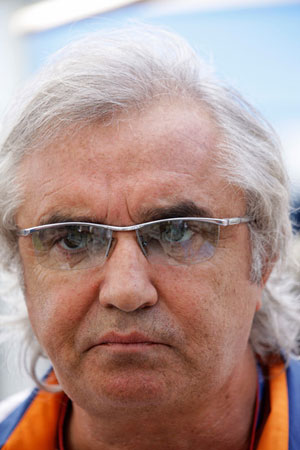 © The Cahier Archive
Flavio Briatore says he will leave Formula 1 in two years. The news is no surprise as the Italian is now closing on 60 years of age and has been spending more and more time involved in soccer.
Briatore has long been one of the sport's highest profile characters - and its most controversial.
He came to Formula 1 in 1988 with the Benetton F1 team, after overseeing a less-than-successful expansion of the clothing firm into the United States of America. He led the Benetton team to a controversial World Championship victory in 1994 after Ayrton Senna's death at Imola deprived Williams of its team leader. There were strong suggestions that Benetton had used illegal electronic systems and further trouble when it was found that the team had tampered with refuelling equipment. The World Championship ended with Schumacher ramming Damon Hill off the track in Adelaide. The team escaped any public punishment but a deal was struck in which Tom Walkinshaw, the team director under Briatore, was transferred to run the Ligier team, which Briatore had bought in order to get hold of Ligier's Renault engines for the 1995 season.
The Schumacher-Benetton-Renault combination was too strong for the opposition but at the end of that year Schumacher moved to Ferrari and a year later Ross Brawn and Rory Byrne followed. The 1997 season was another disappointment and Briatore was ousted. He then organised a deal to buy the old Renault F1 engines from Mecachrome and marketed them under the Supertec name - making a great deal of money in 1998, 1999 and 2000. He also began managing drivers and when Renault bought the Benetton team in 2000 Patrick Faure, who had had dealings with him in the Ligier era, decided that Briatore should run the team, although he continued to manage drivers, despite the obvious clash of interest. He built a new team around Fernando Alonso and the combination won the World Championships in 2005 and 2006, although once again the star driver then departed, Alonso moving to McLaren.
Other stories for DECEMBER 15, 2008