APRIL 30, 2008
Conspiracy theories in Formula 1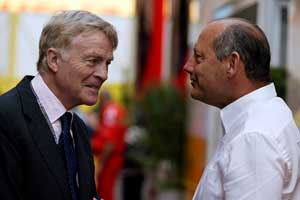 © The Cahier Archive
Max Mosley has hired the private investigation company Quest to look into the question of whether the revelations about his sexual activities were the result of a plot against him. Quest has been asked to identify who, if anyone, was behind the investigation which Mosley claims was going on into his private life.
There is a certain irony in the fact that Mosley has gone to Quest, the same company that Ferrari used last years in its investigations of whether or not its data went to McLaren. The company is headed by former Metropolitan Police Commissioner Lord Stevens of Kirkwhelpington. The former chief constable of Northumbria Police shot to prominence with his investigations into allegations of collusion between the British Army, the Royal Ulster Constabulary and loyalist terrorists in the murders of Irish nationalists in Northern Ireland. He retired in 2005 but then headed a Metropolitan Police inquiry into the deaths of Diana, Princess of Wales and Dodi Fayed. This concluded that the deaths were an accident.
He then worked with Quest for the Football Association to examine allegations of corruption in English soccer. In June 2007 Prime Minister Gordon Brown appointed Lord Stevens as his Senior Advisor on International Security Issues. It is perhaps also worth noting that he writes on occasion for the News of the World.
Quest started out in 1996 as a corporate investigative service led by former PricewaterhouseCoopers accountant Nigel Layton, who made his name unravelling the business activities of Robert Maxwell, which revealed that he used hundreds of millions of dollars from pension funds to finance his corporate debt, his takeover bids and a lavish lifestyle. Layton remains the managing-director of the business while the chief executive role now belongs to Brigadier Dick Andrews, who worked in military intelligence before his retirement.
Despite all the big names, it is still fundamentally a private detective agency and it will be interesting to see if it can find out anything about Mosley's claims, without enjoying the same kind of powers as the police. Mosley, who is usually averse to conspiracy theories, seems to think that this will lead back to some of his enemies. It is easy to see why he might feel this way, but hard to imagine that anyone dealing in the corporate world of modern F1 would have even considered taking the risk of getting involved in any such adventure.
In the end, however, it is not really relevant because while someone might have dug the hole, Mosley still fell headlong into it and this undermines any case completely he might wish to formulate. If Mosley can find out who did it, he could use publicity against the alleged perpetrator(s) to damage them and, perhaps, frustrate whatever it is that they are trying to achieve.
The problem with that is that one might reach the conclusion that they have already achieved what they set out to.
Other stories for APRIL 30, 2008