NOVEMBER 25, 2008
Careful Nico...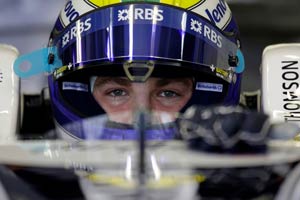 © The Cahier Archive
Nico Rosberg has warned Williams F1 that he could leave after next season if the former World Champions fail to give him a competitive car. Rosberg is free to go at the end of the current season. Rosberg may not have had as competitive a car as he might have hoped this year but it does need to be pointed out that he also made a string of mistakes which cost the team a considerable number of points in the course of the season. If those points had been scored rather than thrown away the team would have done much better in the Constructors' Championship and so perceptions would be rather different than they are today. In addition to this, there were rather too many occasions when F1 novice Kazuki Nakajima did a better job than Rosberg, which was not expected given his lack of experience. Thus Nico needs to be a little careful as Williams may not be as keen to keep him as he seems to believe.
Rosberg is known to be keen on the idea of going to McLaren where he would be a useful number two for Lewis Hamilton. The two men have been team-mates at various times throughout their careers. McLaren needs a rather stronger challenge than that offered this year by Heikki Kovalainen and Rosberg is deemed to be a man who could do the job.
Other stories for NOVEMBER 25, 2008