APRIL 20, 2010
Can anyone take it to Red Bull over 19 races?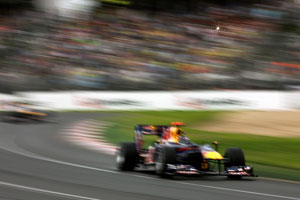 © The Cahier Archive
After the soporific fare served up in Bahrain, the last three grands prix have all been highly entertaining. But it's all been about mixed conditions. In Melbourne and Shanghai they came on race day, giving us fantastically entertaining dices throughout the field. In Malaysia they came in qualifying, creating a skewed grid with many of the quick teams starting at the back with egg on their faces and, no doubt, expensive meteorological equipment consigned to the rubbish skip.
What you cannot escape though, is that in normal dry conditions, Red Bull's RB6 is undeniably the quickest car on the grid. By some margin. When we return to a semblance of normality, probably on a sunny afternoon in Barcelona a couple of weeks hence, Adrian Newey's chassis will start an overwhelming favourite.
We seldom get a good one in Barcelona. The track tells you a lot about your chassis and you don't often get the kind of weather that facilitated Michael Schumacher's stunning rain performance in '96, when he spent much of the race lapping 3-4s quicker than anyone else. The animals tend to go in two-by-two as far as the grid is concerned, with car performance far more significant than any driver input. It may not be quite so bad this time, given that the testing ban means teams no longer arrive in Spain having tested there ad infinitum for the previous six months.
Red Bull's Christian Horner, above all, will be praying for 'a normal one.' A race where the RB6 can exploit its phenomenal downforce and grip through the long Turn 3, which Lewis Hamilton couldn't get near taking flat in last year's aero deficient (at that time!) McLaren.
In Melbourne and Shanghai Jenson Button used his uncanny feel for grip with slick tyres on a damp track to fabulous effect. In Australia it looked like he may have gambled too much when he had an excursion upon rejoining slick-shod while everyone else was still on intermediate tyres, but by the end of the lap he was setting purple sector times and had clearly made the right call. It was the foundation of his win.
In Shanghai it was almost inevitable that Jenson would be among those who stayed out on slicks and risked it while most of the front-runners, Rosberg and Kubica apart, all piled in for intermediates which, sadly for them, overheated quickly as the rain abated. The strategy gave Nico and Jenson track position and would have given them an even more significant advantage had the Safety Car, deployed because of debris on the track, not allowed the early stoppers back into the game.
In both Australia and Malaysia, Lewis Hamilton stopped more often than Button and it didn't work out for him either time. But his recovery drives were the highlight of both races and although Jenson enjoys a 3-1 qualifying advantage over him after the first four races, Hamilton has shown strong pace at various stages of most race weekends and will probably be identified by Red Bull, alongside Alonso, as their biggest threat.
Lewis has been in the thick of the action everywhere. In Malaysia, coming through after McLaren's strategy faux pas saw him marooned in Q1, he caused a good degree of controversy with his weaving on the straight after passing Vitaly Petrov. Petrov had managed to re-pass him the previous lap and this was Lewis attempting to break the tow so that the Russian couldn't do it again and the McLaren could make good his escape. For some time now there has been a 'one move' rule in F1. In other words, in a close battle, a driver can go one way to defend his position and then must stick with it, not weave across the road.
The point at which the one move rule applies was key to fairly heated discussion in the drivers' briefings in Shanghai. Many older readers will remember the old Monza slipstreamers of the sixties, where cars weaving around to break tows were common practice. Hamilton was interpreting the one move rule to apply only to the move you make when you arrive at the next braking area and commit to the corner. His colleagues, by contrast, were insisting that one move meant one move. Period.
In the Chinese race itself, Lewis and McLaren also copped some flak for their pit stop release after the first switch to intermediates, where Hamilton and Vettel rubbed wheels in the pitlane.
"I don't know why he was keen to touch me," Vettel said, post-race. "I was just glad I didn't get a puncture because of it."
It was a tough one to call and always will be. It's all about fractions of a second saved in the pits and there will always be close calls. Both drivers received reprimands from the race stewards and that was probably right. It's good to see that with experienced drivers now advising (Alain Prost in Bahrain, Tom Kristensen in Australia, Johnny Herbert in Malaysia and Alex Wurz in Shanghai), we haven't had a rash of silly penalties discouraging drivers from racing when it's hard enough to do so anyway.
For many, the pit lane incident was the more serious one. Hamilton's defence against Petrov was something and nothing. The guys are racing, not playing tiddly-winks and it's counter-productive to be too puritanical with them. In the pits though, you're dealing with a lot of people working in a confined space and it would only take a car spearing right after contact with a rival, to be the catalyst for a very serious incident. For that reason, some would argue that a penalty should have been imposed on Hamilton, Vettel or both, just to get the message across and nip such behaviour in the bud.
But as long as common sense prevails we can overcome the pitlane incidents. What was the point in Hamilton running down the pit lane fractionally behind Vettel but perilously close to mechanics and air guns, when the cars are on the limiter anyway and he's obviously going to have to cede? All it did was force Vettel to usher him further over to the right to ensure he didn't try to sneak up the inside leaving the pitlane, for which some argued that Sebastian should have been sanctioned. What Charlie Whiting probably needs to say to drivers is that once it's clear your are behind, no matter how marginally, you must fall in behind, not drive side-by-side down the pitlane. And if they are absolutely level, then one team has probably conducted an unsafe release, with a Drive Through penalty the appropriate action.
Despite Hamilton's 'issues' he has undoubtedly been responsible for 90% of 2010's on-track excitement and his ability to continue serving it up will depend upon how successful McLaren is with the car development race that will be a feature of the rest of the year. They went from back to front in five short months last year and Button/Hamilton must be hoping that Woking can conjure a little more downforce if they are to capitalise on an early, unexpected lead in both championships.
Fernando Alonso, after his winning start in Bahrain, has suffered three deeply frustrating races and is probably the man Red Bull fears most. Already, you feel, he has gained a decisive upper hand over Massa. His qualifying time in Shanghai, just a tenth from Webber's Red Bull, was a great effort and more than a quarter of a second up on Felipe, whose confidence can hardly be helped by paddock gossip about Robert Kubica taking his seat in 2011.
Alonso's Australian GP was ruined by his first corner contact but his recovery drive was sensational. Malaysia was ruined by Ferrari's weather forecasting in qualifying but, again, Fernando's recovery from the back, with a clutchless car, left Ferrari's technicians peering disbelievingly at their telemetry and scratching their heads, deeply impressed. Ultimately the engine failed, and another smoky Maranello-powered Sauber in Shanghai cannot have boosted spirits any. Loss of air in the pneumatic valve system has been put forward by way of explanation but after messing up China all by himself, with a jump start, Alonso will want to get his championship challenge properly back on track at home in Barcelona. The positive, as far as Fernando is concerned, is that despite a hat-trick of less than satisfactory races, he's only 11 points off the championship lead and neither of the two drivers ahead of him is driving a Red Bull.
One of them is Nico Rosberg, who has done a fabulous job for Mercedes, completely shading his seven times champion team mate. With 50 points from the first four races, Nico is just 10 points behind championship leader Button with Mercedes hopeful that its aero upgrade at Barcelona will be a significant step forward.
To say that Schumacher's return has not lived up to expectations would be an understatement but with a driver of his class, there has to be valid reasons. Michael has always wanted a car with a strong 'pointy' front end, which he clearly hasn't got. At Barcelona though, the team will have an updated car with a longer wheelbase and different weight distribution which, Michael must pray, will go a significant way to solving his difficulties.
"The problem is not the wheelbase per se, it's the weight distribution" Ross Brawn said in China. "We got that wrong. When we started trying these tyres we realised we didn't have the weight distribution we needed and immediately went to the limit of what we could achieve with the car. The tyres had changed to a smaller front, the rears changed again, we had no opportunity to try them and we didn't make as good a guess on what we needed as some of the other teams. The modifications for Barcelona should put us into a better range for what we want to achieve."
There's no rest for the wicked, as they say. Red Bull is out front at the moment, but they will be anxiously looking over their shoulders. Come November they could be left ruing their failure to put more points on the board given their superiority at the early season flyaway races. But much of it has hardly been their fault.
Other stories for APRIL 20, 2010