SEPTEMBER 7, 2009
Brawn GP and Mercedes-Benz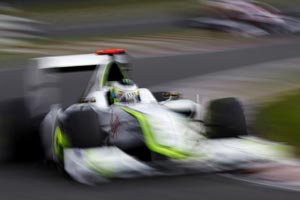 © The Cahier Archive
There have been stories today that Mercedes-Benz is talking about buying a stake in the Brawn GP team. This is interesting for the Brackley team, but slightly ominous for McLaren, which has been a Mercedes-Benz partner for 14 years. The German car manufacturer bought 40% of McLaren from Mansour Ojjeh and Ron Dennis 10 years ago when they began planning for a new road car called the Mercedes-Benz McLaren SLR. This went into production in 2003 and the project comes to an end this year. Since the original equity deal Dennis and Ojjeh have sold 30% of the shares to Bahrain Mumtalakat Holding Company, but they retain control of the company thanks to voting covenants. The McLaren-Mercedes relationship has not always been easy and in 2005 Mercedes acquired AMG to be an in-house developer of high performance vehicles, which was much the same role as originally envisaged for McLaren. More recently McLaren has been pushing ahead with the development of its own road car, which will be powered by a V8 engine, which will be based on the Mercedes AMG 6.2-litre V8 engine but will feature McLaren internals and will be built for McLaren by Mahle in Northampton. It is believed that the engines will be badged McLaren.
At the moment everyone is playing down any possibility of a split between McLaren and Mercedes.
"Mercedes-Benz's engine supply contract with McLaren is a very long-standing one - it's in its 15th consecutive year, in fact - and it will continue to run for many years to come," said a McLaren spokesman. "However, we're supportive of our partner's plans regarding engine supply of other teams in Formula 1, and we were delighted earlier this year that a Mercedes-Benz engine supply deal was able to be done with Brawn, thereby saving that team from likely extinction. Force India, too, has blossomed as a result of its engine supply/engineering consultancy collaboration with Mercedes-Benz and McLaren.
"Both McLaren and Mercedes-Benz remain extremely satisfied with our F1 collaboration."
Mercedes-Benz intends to supply engines to four teams in 2010 with McLaren, Brawn and Force India expected to be joined by Red Bull Racing, while other teams would like to get their hands on the engines as well. If the Red Bull deal is not completed, that supply of engines will likely go to Williams.
Other stories for SEPTEMBER 7, 2009