DECEMBER 7, 2010
Bernie's black sense of humour!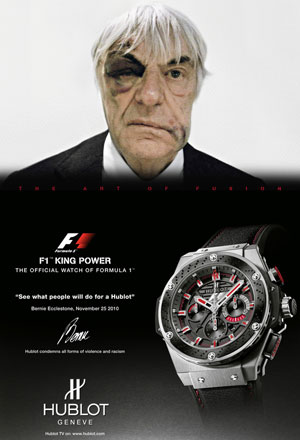 Never one to miss a commercial opportunity, the latest advertisement for Hublot watches features an image of Bernie Ecclestone's severely bruised right eye and face following his recent mugging by robbers outside his offices in Knightsbridge, London.
The catchline to the Hublot ad, underneath the picture of Ecclestone's injured face, reads: "See what people will do for a Hublot."
Jean-Claude Biver, Hublot's chief executive, told Associated Press that Ecclestone showed "a kind of British humor and defiance" by supplying the picture for free and suggesting the ad campaign.
The advertisement is scheduled to run later this week in publications such as The International Herlad Tribune and the Financial Times.
Other stories for DECEMBER 7, 2010