FEBRUARY 25, 2011
Analysis: what's the 2011 F1 state of play?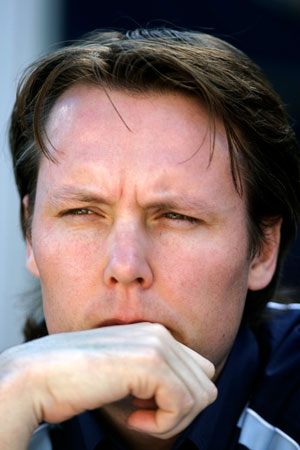 © The Cahier Archive
Williams technical director Sam Michael, speaking at the livery launch of the new FW33 at the team's Grove, England base, confirmed that the start of the new F1 season should see more Red Bull versus Ferrari battles.
McLaren, in the thick of the action at the Abu Dhabi 2010 season finale three months ago, appears to be struggling with its new MP4-26 and, indeed, cancelled a planned press lunch scheduled for today at just 36 hours notice.
Michael, however, cautioned that with teams still bringing upgrade packages to cars and one test remaining in Barcelona, it is difficult to predict the early races with any certainty, but said that a pattern had emerged at the last Barcelona test.
"It's Red Bull and Ferrari," he said. "One day I think Red Bull, the next Ferrari. It's so tight and that could change at the last Barcelona test when everyone puts their first race updates on the car. The Red Bull is a more developed car than the Ferrari. If you look at its exhaust system, the back end, there's much less to come from that car then there is from the Ferrari. If Ferrari brings an upgrade package that gives them something at the last test, they could nip in front."
Asked how much McLaren and Mercedes needs to bring to join the front-ranking teams, Michael opined: "Quite a bit, I'd say, to run with those guys. Very subjectively, I'd say you've got Ferrari and then Red Bull at the front at least four tenths faster than anyone else, then I think you've got a pack which is Renault, Toro Rosso, Williams and even Sauber, then another three or four tenths back to Mercedes and McLaren, then another step back to the new teams. That's definitely what the picture was in Barcelona.
"It could change - they are bringing stuff to the car and could easily switch up into that top group. The times that they were doing, especially on the qualifying-type runs, were nowhere near quick enough to go to the first race like that. Nico (Rosberg), I think, did a 1:23.1 with the Mercedes while Felipe Massa's 1:22.6 Ferrari run wasn't even low-fuel. Ferrari could have dipped into the 1:21s for sure. But, saying that, Mercedes has a massive upgrade package coming for Bahrain so maybe they will jump up there."
Michael is enthused that despite F1's prescriptive regulations there are still innovative design approaches as teams are forced into attempting extreme concepts to differentiate performance levels.
"When we started having standard diffusers and all these restrictions I was thinking that it was going to get really dull and that it was dumbing down F1," he admitted, "but, in fact, it's doing the opposite because by not being able to work on the diffuser you say right, here's something that might give you two tenths but it's high risk -- whether that's Toro Rosso's double floor, Renault's exhaust or our gearbox -- but you've got to differentiate yourself because if you don't you're going to be at the back. I think it's good for F1. This is the most standardised set of regs that F1 has ever had but the cars look completely different. I didn't predict that."
Other stories for FEBRUARY 25, 2011