MAY 5, 2011
Analysis: The Williams situation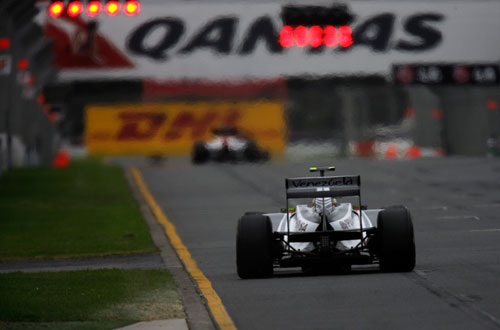 © The Cahier Archive
Sam Michael's resignation as technical director at Williams, a position he has held since 2004, and the arrival of Mike Coughlan as design chief, has dominated the week's F1 news.
Michael is unfortunate that his tenure as Williams TD has coincided with a winless spell ever since Juan Pablo Montoya's victory at Interlagos in 2004. As Mark Webber put it in Turkey: "nobody in the paddock likes to see Williams where they are now."
You could argue that the unraveling of the BMW relationship, which Munich felt underachieved, set Williams on the slippery slope from major force to the less elevated status of smaller independent unlikely to realistically take on the better-funded manufacturer establishment.
Michael has a strong reputation and it would be a shame if he was held up as a scapegoat for a difficult period in the team's history as Patrick Head moved aside to bring through new blood which, it is said, is what BMW wanted before they took the decision to buy Sauber ahead of their ultimate departure in 2009.
More will doubtless become known about the precise circumstances behind Michael's departure in due course and it is hard to imagine him without good offers from elsewhere in the paddock. Having just turned 40, perhaps he took stock of a frustrating situation and decided it was time for a change.
"I was sorry to see Sam's announcement," Rubens Barrichello said in Istanbul. "I have been working with him since the Jordan days and was glad to reunite with him at Williams. I think Williams needs changes. There are too many people doing too many jobs right now. A classic example would be that I drive the car and then get out to check the tyre pressures. That wouldn't work and there's too many people doing that at Williams right now."
When a football team isn't working they change the manager but is that always right? In Formula 1 they talk about stability being a key ingredient. Some would argue that six and a bit years is a decent period of stability but, as we've said, it was a period that coincided with Williams falling from its big team status.
When Barrichello speaks of people doing too much he's taking about Michael as much as anyone.
"He was definitely overloaded, yes," says F1's most experienced driver. "It was like he was doing five or six jobs. At the end of the day it's too much for a single human being and he ends up doing half of his capability on his own job because he's overseeing a lot of things. Sam's real capability is creating the car and working on the engineering side.
"In my opinion we need to define a little better what is what and who does what. Right now the tunnel is bringing great things on paper and we have evolutions and new things but they do not always translate on the track. That's why the progression of the team is sometimes bad and sometimes not. I have been telling the team that a lot because all the teams I've been with that have done well, are the ones who only put things on the car that they really think are going to work, otherwise there's confusion.
"Last year we made a lot of progress but there was also stuff that caused confusion. It's time for a change and I'm all up for it but unfortunately there's too many and it might take some time. It doesn't matter if you make a trick driveshaft or an aggressive gearbox if the car is not the way it should be."
Mark Webber joined Williams at a time when the team had been consistent race winners and a frustrating couple of years had him almost contemplating retirement. The all-Australian relationship with Michael, whose F1 experience dates back to Lotus in the early nineties, was widely predicted to be a strong one but it was a case of wrong time, wrong place.
"I'm surprised at how much has gone on -- quite big changes," Webber says of the Williams reshuffle. "It's a team that sets the bar very high and they have admitted they have been disappointed in the last few years. As we all know, in any team it's impossible to put it on one guy's shoulders, there's been some key changes and time will tell if they are beneficial.
"Sam shouldered a lot of the responsibility. He was incredibly passionate, had big desires towards the job and I think in certain areas might have been able to have more substance around him to support him. That would have helped him get more out of himself -- he's a talented guy for sure. He was in a difficult situation there. Sometimes it's hard to see the wood for trees and suddenly one year goes, then two years, then three. So yeah, a tough time for him."
Michael has said he is committed to getting the best out of FW33 and, from Barrichello's own perspective, one thing that excites him is having Michael on hand to develop the car throughout the season without the baggage of 2012 as well.
Sam is one side of the story and the other, very obviously, is the recruitment of Mike Coughlan, a man stained by the McLaren spying case in 2007. Coughlan, 52, has a lot of experience. Like Michael a mechanical engineer, he worked at Lotus back in the Senna days more than 25 years ago, before widespread experience with John Barnard, then alone at Arrows and, when that folded, at McLaren.
It's easy to suggest that now that Williams has floated on the stock market, it had to be seen to be doing something. But equally, is recruiting a smeared name the right path to go down?
Frank Williams is a racer and lots of racers will admit to seeking the unfair advantage and will claim that Coughlan's only crime was to get caught.
"I don't think it makes Williams look bad," Barrichello says. "People in life only learn by making mistakes and if you become a better person, that's the whole attitude of life." And then, getting to it, he added, "If you build a fast car the past is gone... I welcome him with all his knowledge." And that, as far as F1 is concerned, really is the only thing that matters, although strong moralists might not concur.
Other stories for MAY 5, 2011