MAY 10, 2012
Analysis: the great Pirelli tyre debate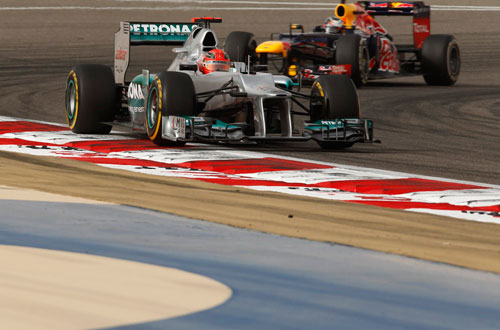 © Active Pictures
BY TONY DODGINS
Pirelli's F1 control rubber has sparked much debate in the F1 paddock after Michael Schumacher voiced the opinion that the need to look after tyres is impacting too heavily on the performance of an F1 car.
Schumacher made his comments after finishing 10th in the Bahrain GP having started 22nd. He stood by them when quizzed further this week.
Fernando Alonso, meanwhile, said in Barcelona that he thought that perhaps too much emphasis had been put on Schumacher's remarks.
"I don't agree that Michael has continually criticised Pirelli," Alonso said. "He said one thing and I think maybe it has been exaggerated."
Alonso broadly agreed with the views of fellow double champion Sebastian Vettel, who said: "We get a completely different impression in the car from outside. Today you have to look after tyres much more than 3/4/5 years ago. Take 2009, with refueling and new tyres that lasted longer in that they didn't see much degradation -- you could push like you were qualifying the car.
"Now, it's full fuel, a heavier car, more stress for the tyres. You put a new set on with 20 laps to go and the stint level is different to what you had a few years ago. There's more degradation, you slide more, and one driver more than the other because his tyres went on two laps earlier.
"But it's seen as better quality racing from outside because things happen. The races today, and last year's since we changed a couple of things, have been much better. For instance at one past race here in Barcelona I was following Felipe (Massa) for 60 laps and couldn't pass. But now you know your chance will come in the race."
What is difficult to gauge from outside the cockpit is the full extent to which a drivers' ability to race has been compromised. Could Mark Webber, for instance, drive the sort of race he drove in China last year, where he finished a close third from 18th on the grid, on this year's Pirellis?
"I would say 'No' is the answer to the question," Webber said, but clarified it by adding that it was not solely down to the make-up of the current rubber.
"That was the third race of last year and everyone was learning a huge amount (about tyres), even more than they are now, and so that strategy with having the new tyres worked well and the race came to us quite aggressively.
"Now, the tyres are a bit different and we are seeing different teams happy. It's up and down and they perform differently at different venues, and from a Saturday to a Sunday as well. So it's a question of really how much of what they have is what you want or do you change them? But I don't think it's anything drastic."
Although four different winners from the first four races has given the impression that qualifying is much less significant than it used to be, it's worth pointing out that the rain-afflicted Malaysian race apart, the driver who has led into the first corner is the man who won the race: Button in Australia, Rosberg in China and Vettel in Bahrain.
Outright qualifying speed apart, part of that is down to the fact that running in clean air helps to look after the tyres. Lewis Hamilton estimates, for example, that a set of tyres that would do 15 laps in clean air, might do just 12/13 in traffic before suffering thermal degradation. It's simply that running behind someone costs you downforce, which causes you to slide more. That impacts on your stint length and ability to cover people off tactically.
One of F1's new generation, Bruno Senna, thinks the current Pirellis are good for racing.
"From a driver's perspective you always want a tyre you can push as hard as possible for as long as possible," he says, "but in reality if you look at Formula 1, maybe it's the last eight years that you could actually push as hard as you wanted for the whole race because the car was good, the tyres were good, etcetera.
"Before that, if you pushed like that you would break the car, and before that it was the car and the tyres, so it's going back more to how it was before and that improves racing. And that's what people want to see. You just have to be smart enough to take care of your tyres as well.
"It's the same for everybody. Michael is very used to having low fuel and doing short stints and pushing as hard as he could. That's maybe what made him great and won him so many championships, but you have to adapt to the situation.
"I don't think Sebastian was champion with a Bridgestone tyre and a Pirelli tyre, without problems. Everyone is entitled to their own opinion but I think most of the drivers are satisfied with the way the racing is.
"It's much more fun to be fighting the other guy and also his tyre wear and your tyre wear. It makes racing more interesting. Sometimes you are on the back foot and people are overtaking you and it doesn't feel good but sometimes you are the one attacking and it does feel good. It's all about the decisions and it makes racing much less boring than it was before."
And that, by and large, seems to be the popular consensus.
Other stories for MAY 10, 2012