APRIL 25, 2012
Analysis: McLaren's 'bad day at the office'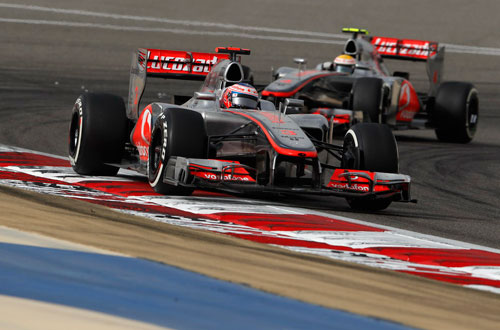 © Active Pictures
BY TONY DODGINS
After looking the class of the field at the opening two races, McLaren has now ceded the lead in the drivers' and constructors' championships to Sebastian Vettel and Red Bull Racing.
Jenson Button failed to finish his second race in four, with an exhaust problem, and under the current scoring system, DNFs are costly. Lewis Hamilton, who qualified second, could finish only eighth.
Pit stop problems on the left rear corner combined, cost Hamilton slightly more than 15s but there were more to McLaren's troubles than that.
"We weren't quick enough," team principal Martin Whitmarsh said candidly. "We made mistakes and we had a failure on Jenson's car, so it was a pretty bad day at the office.
"We were killing the rear tyres very quickly and the drivers really didn't stand a chance. It's about pressures, temperatures, how we are using those tyres, so it's a bit of a concern. But we have to be calm, analytical and fix it.
"This is a much more interesting championship right now than I'd like it to be! We've never discounted Red Bull. Four different constructors have won the first four races and you've got to say congratulations to Lotus - they were bloody quick in Bahrain.
"We have to focus on what we did wrong because clearly we did something. When you look at our race pace by comparison with the long runs we did in Friday practice, we were a second slower.
"That equates to 30 or 40 points of downforce. Well, we didn't lose 30 or 40 points of downforce, so we got something wrong. These tyres are very, very challenging and if you get them in the sweet spot then you're in great shape. If you are out of that sweet spot then you're in for a tough time, which is what we gave our drivers in Bahrain."
What you can say is that while Bahrain was obviously hot, track temperatures of around 30-32C were 10 degrees or more lower than what may have been expected on race day, but it was the same for everyone.
The good news for McLaren is that there is now a three-week break before the European season gets underway at Barcelona on May 13. In the intervening period is the year's only in-season test, at Mugello from May 1-3.
The plan was initially to have test drivers Gary Paffett and Oliver Turvey conduct the test but a rethink may now see at least one of the regular race drivers in the cockpit as they have more experience of the current Pirelli tyres.
McLaren will also be looking at its pit stop processes. You may reasonably expect two or three cross-threading issues a season during races, where new nuts are always used, but the team has suffered two at consecutive races.
Understandably perhaps, after problems in China which cost Button a last stint go at Nico Rosberg, and then Hamilton's troubles at the first two stops in Bahrain, McLaren's left rear gun man was in a highly stressed state and was changed for the final round of stops at Sakhir.
"At the first stop the wheel pegged," explained Whitmarsh. "That's when the drive pegs don't align with the drive holes. The second one was a cross thread, which was the same as the one we had in China, all on the same axle and side.
"There's a quick release on the jack and with the pegging stop, because the gun had come off, the jack man got two green lights and dropped the car. He then had to effectively reset the jack and get it back up again so we could change the nut and get the wheel off.
"Any guy who volunteers to be a gun man is a brave man. I've been speaking to him because I know how hard he's being on himself at the moment.
"We changed him for the last stop because he took it so badly and it's our job to support him. All of us, from team principal down, make mistakes from time to time. You can imagine the pressure. Everyone knows that the last gun off is the one that dictates the speed of that change and so if it hasn't been going well for you, it's an enormously stressful position that you're in.
"These are guys who are mechanics, they don't get paid extra for doing it, they put themselves in the firing line under enormous pressure and so naturally I'm very protective of them because they deserve it. But we've got to look at the equipment, the process, the approach. It's so disappointing."
Lewis Hamilton, having lost his championship lead to Vettel, said: "We have a lot of work to do and really have to make some big improvements to the car because while the qualifying pace was there, the race pace was miles off. But if anyone can fix it, it's us."
Other stories for APRIL 25, 2012