MAY 19, 2011
Analysis: Is Sutil's Force India seat safe?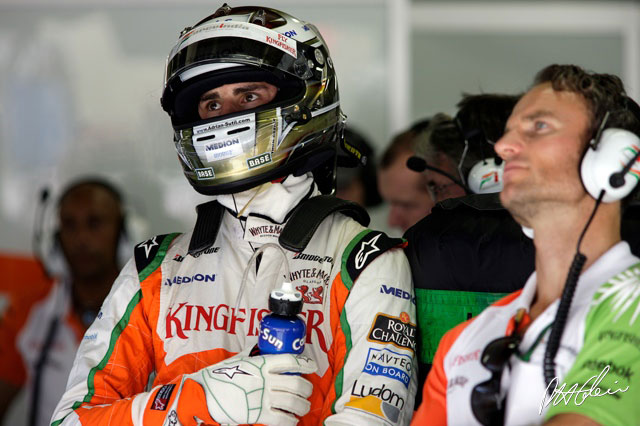 © The Cahier Archive
Adrian Sutil's manager Manfred Zimmerman says that the German driver will be in the Force India at Monaco and beyond as the potential ramifications of his involvement in the Shanghai nightclub incident with Genii Capital's Eric Lux rumble on.
Earlier this week, with speculation that charges against Sutil for assault could be career-threatening, Force India released a statement which read: "Although the team continues to monitor the situation, it remains fully committed to its driver line-up at this weekend's Spanish GP."
That, in a way, gave more questions than answers, as it was seized upon as meaning that the team was committed to Sutil only as far as Barcelona.
As Sutil and Zimmerman faced the press in Spain, however, the driver's manager said: "Please, just let us talk about F1 and Barcelona and maybe Monaco and no more things concerning Shanghai or the incident -- it makes no sense."
When the 'maybe Monaco' bit was immediately seized upon, Zimmerman clarified: "I mean maybe you are interested in (asking questions about) Monaco. The team was asked, 'Will Adrian be in the car in Barcelona?' The team said yes, he will be in the car in Barcelona. And that's it."
Pushed as to whether Sutil will definitely be in the car at Monte Carlo and beyond, however, Zimmerman said: "We have to ask Vijay (Mallya) but... are you sure that Fernando will be in the car in Monaco?" It was perhaps not the best parallel he could have drawn on the day that Ferrari confirmed an Alonso contract extension until 2016!
All Sutil would confirm is that he has appointed a lawyer, with Zimmerman denying stories in the German media that it was the same lawyer that handles film producer Roman Polanski's affairs.
"Why?" Zimmerman said. "Adrian is German, Mr Lux is from Luxembourg and so why should we have a Swiss lawyer?"
There have been suggestions that when Michael Schumacher finishes his current Mercedes contract, ostensibly at the end of 2012, a future replacement could well be either Paul di Resta or ex-Williams and current Force India reserve driver Nico Hulkenberg. Seeing the pair go head-to-head at Force India, therefore, might prove useful to the three-pointed star, and could in theory make Sutil's position more precarious.
Sutil, who has been outqualified three times in four races by F1 newcomer Di Resta (their respective race score is 2-2), spoke in generous terms when asked about his new team mate.
"I enjoy working with him," he said. "Paul is a young talent, not the rookie you normally have out of GP2 without much experience in professional racing. He has come out of the DTM after four years with Mercedes. He's not like a normal rookie, he knows about a lot of things, doesn't make mistakes and is really consistent. I'm happy about it, I want to compete against good drivers."
Other stories for MAY 19, 2011