NOVEMBER 20, 2010
Alonso tops final Pirelli day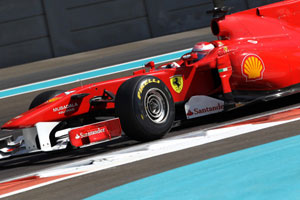 © 2010 WRI2, All rights reserved
Pirelli's first full F1 tyre test concluded today in Abu Dhabi, with Fernando Alonso setting the fastest time (1:40.529) after more than 100 laps at the wheel of the Ferrari.
Alonso's lap was 0.73s slower than the time with which the Spaniard qualified third on the grid for the Abu Dhabi GP, although conditions at Yas Marina have varied, day-to-day. Michael Schumacher's Mercedes finished the day just 0.16s slower and only 0.17s slower than his own Abu Dhabi GP qualifying time.
"We had an interesting session," Schumacher said, "we gathered a lot of data and insights, and have positive feedback from our first impression of the new tyres. I'm probably the only driver to have driven on Pirelli tyres (with Benetton in his debut '91 season) but it was 20 years ago and I didn't have any certain expectations. In terms of consistency it looked quite good but we were using the 2010 car and it will be all about how these tyres suit our 2011 car. I am already curious to try it out."
Sebastian Vettel ended up third quickest but suffered his second tyre failure in as many days just before lunch. Friday's problem was attributed to a cut tyre and Pirelli is now investigating the cause of the latest issue.
Vettel, who now heads for celebrations in his home town of Heppenheim, said: "We have had two busy days on track, getting our first impressions of the new tyres, analysing how they perform and looking at some things for next year. There is
still a lot to do, but I think the tyres are already better than expected. Since February we haven't really had time to do any in-depth testing on track, so these two days have given us a chance to reflect on things we have tried during the season."
Red Bull's head of race engineering, Ian Morgan added: "It's been interesting to work with different tyres and it was good to have the opportunity to get information using a car we know well before starting to work with the new car next year. Overall we have done everything we planned."
Rubens Barrichello, reconfirmed at Williams for 2011, set fourth quickest time, ahead of Robert Kubica, whose quickest lap was 0.7s down on Renault's qualifying best from the race weekend.
"We've had a second useful day on the Pirelli tyres and managed to complete medium length runs on both the soft and medium compounds without any significant issues," reported Renault's Alan Permane. "That allowed us to start understanding the tyre characteristics and assess the degradation rates. We struggled with some understeer today, which we never totally got rid of, so we still need to try and understand that."
Gary Paffett and Oliver Turvey shared testing duties for McLaren-Mercedes, with Paffett ending up 0.12s quicker, with Paul di Resta a similar margin behind Turvey as he continued Force India's work.
Abu Dhabi Saturday Pirelli Test Times:
1. Fernando Alonso, Ferrari, 1:40.529
2. Michael Schumacher, Mercedes, 1:40.685
3. Sebastian Vettel, Red Bull-Renault, 1:40.825
4. Rubens Barrichello, Williams-Cosworth, 1:41.294
5. Robert Kubica, Renault, 1:41.614
6. Gary Paffett, McLaren-Mercedes, 1:41.622
7. Oliver Turvey, McLaren-Mercedes, 1:41.740
8. Paul di Resta, Force India-Mercedes, 1:41.869
9. Kamui Kobayashi, Sauber-Ferrari, 1:42.110
10. Sebastien Buemi, Toro Rosso-Ferrari, 1:42.145
11. Tonio Liuzzi, Force India-Mercedes, 1:42.416
12. Sergio Perez, Sauber-Ferrari, 1:42.777
13. Jarno Trulli, Lotus-Cosworth, 1:44.521
14. Pastor Maldonado, HRT-Cosworth, 1:44.768
15. Timo Glock, Virgin-Cosworth, 1:44.783
Other stories for NOVEMBER 20, 2010