AUGUST 25, 2010
300 Up for Rubens at Spa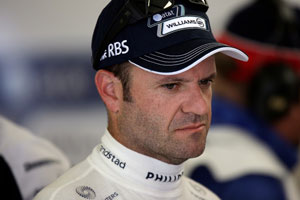 © The Cahier Archive
Rubens Barrichello sets an amazing milestone when he competes in the Belgian GP at Spa this weekend - his 300th Formula 1 start!
The 38-year-old Brazilian is some 40 starts clear of Michael Schumacher, having been an F1 ever-present since his debut with Jordan in 1993.
"I feel privileged to have been in F1 for such a long time," Barrichello said, "but I feel at the top of my game and looking to continue well past the 300!"
Michael Schumacher is the second most experienced F1 driver ever, having also usurped the 256-race total which was the previous record set by Riccardo Patrese.
Barrichello, who has had special T-shirts printed to mark the occasion, thinks that Spa, a favourite circuit of most of the F1 grid, is a fitting place to reach his milestone.
"It's a great track, pretty challenging, and I expect it will be even more so this year on full fuel loads. Drivers also run quite different downforce levels and so there is usually the opportunity for overtaking as well. It's all about aerodynamic efficiency, which is what dictates your lap time."
After F1's summer break Williams heads to Spa with new front and rear wings as well as a revised floor for the FW32.
Other stories for AUGUST 25, 2010