People
Mike Gascoyne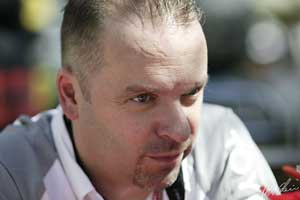 From Norwich in Norfolk, Gascoyne grew up not far from the famous Team Lotus factory at Ketteringham Hall. A bright student, he won a place at the world-famous Cambridge University in 1982 to study fluid dynamics. For the next six years Gascoyne lived the life of an academic, gaining a series of degrees and ultimately studying for a doctorate. Somehow he never quite managed to get round to writing his thesis and so he remains Mr. rather than Dr. Gascoyne.

After leaving university in the summer of 1988 he worked briefly with the Westland Helicopter company before his desire to be involved in motor racing led him to McLaren, where he joined Steve Nichols's design team at the start of 1989, working in the windtunnel at Britain's National Physical Laboratory in Teddington. At the end of the year Nichols joined Ferrari and Gascoyne moved to Tyrrell where he began to work with Dr. Harvey Postlethwaite.

His initial projects for Tyrrell were working on chassis dynamics, computer simulations and aerodynamic mapping on the revolutionary 019 chassis. These impressed Postlethwaite so much that when he moved to Sauber in June 1991 - to design the Swiss team's F1 challenger for 1993 - he lured Gascoyne to join him. Postlethwaite's spell at Sauber was very brief - he was hired after six months by Ferrari - but Gascoyne remained under contract and stayed in Switzerland working as aerodynamics engineer under Postlethwaite's replacement Nichols, the man who had originally hired him at McLaren. Nichols left before Sauber ever entered F1 but Gascoyne stayed on for the team's first season, which saw the C13 chassis score points in its debut race in South Africa and finish sixth in the Constructors' Championship, Karl Wendlinger and JJ Lehto having collected 12 points.

In October 1993 Postlethwaite asked Gascoyne to return to Tyrrell and he became chief designer under Postlethwaite's direction. The Tyrrell team was bought by British American Racing at the start of 1998 and in June that year Gascoyne departed to become chief designer at Jordan under technical director Gary Anderson. At the end of the year Anderson departed to join Stewart Grand Prix leaving Gascoyne in charge.

Shortly before the start of the 2001 season, Gascoyne became the Technical Director of the Benetton-Renault Sport team and began to build a new engineering team. It was this crew that built the successful Renault chassis of 2003-2006 although Gascoyne himself departed in the summer of 2003, having been offered a huge deal by Toyota. He joined the team at the end of the year, too late to have much influence on the 2004 car but the Toyota TF105 was his work and enabled the team to finish fourth in the Constructors' Championship. At the start of 2006, however, the relationship soured as Gascoyne was pushing too hard for change and he was dropped early in the year.

In September it was announced that he would join Spyker as chief technology officer.