People
Humphrey Corbett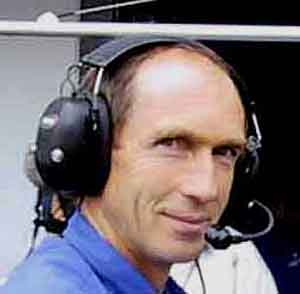 Humphrey Corbett's CV is certainly unusual for a Formula 1 engineer and includes "deer farming" and "used car salesman".

Corbett's skill is based on experience rather than degrees and doctorates and it dates back to 1970 when he started out as a mechanic with the March Formula 3 team. Business was not brisk that first year and the following season Corbett moved to rival Brabham where he became chief mechanic in F3 before moving on to a new F3 rival - GRD - in 1972. He stayed until the end of 1974, working with GRD in Formula 2 and sportscar racing.

He then gave up motor racing and ran his own import-export business for five years. When that business went to the wall Corbett went through a variety of jobs, including deer farming, painting, selling used cars and even selling chocolate bars. It was nine years before he returned to motor racing with Jean Mosnier's Lola Motorsport when it was established to take part in the new Formula 3000, running drivers such as Philippe Streiff and Johnny Dumfries. The 1987 season was quite successful with Spaniard Luis Sala winning a couple of races and finishing second in the European Championship. One of the front-runners that year was Frenchman Yannick Dalmas and when he was hired by Larrousse to be its second driver in the latter part of the season Corbett was hired to engineer the F1 newcomer.

He then went back to Formula 3000 with Lola, Il Barone Rampante, Apomatox and eventually Madgwick Motorsport. In 1990 he switched to the British F3000 series and engineered Champion Pedro Chaves. The following year he engineered Paul Warwick, brother of Derek, to another title, although Paul was to be a posthumous champion, having been killed in an accident at Oulton Park.

In the course of 1992 Humphrey began to work with Mosnier on the planned Bravo F1 team but, when the project failed after Mosnier's death, Corbett joined the Simtek team - which grew from the Bravo idea. In 1994 he engineered Roland Ratzenberger and tragedy struck again, the Austrian being killed at Imola.

A brief period with Pacific Grand Prix convinced him he was wasting his time in F1 and he returned to F3000 with Madgwick in 1996 only to be taken on by Ligier in the mid-season after Tom Walkinshaw pulled his engineers out of the French team. Corbett worked with Diniz in 1996 but switched to Panis in 1998. He engineered Trulli in 1999 and Nick Heidfeld in 2000 but then took the opportunity to go back to Britain to engineer Eddie Irvine at Jaguar Racing.

After that he moved to Toyota in Cologne for the team's debut F1 season in 2002 where he stayed until the end of 2005 before moving back to the UK to work for Red Bull Racing.