MAY 20, 2003
What caused the fire in Austria?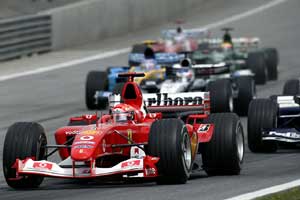 © The Cahier Archive
The FIA and Ferrari are investigating the pitlane fire in Austria, with Intertechnique, the French aerospace company which supplies the refuelling machines. All the teams have identical equipment and although they are allowed to repair and service the machinery, they are not allowed to modify it in any way. The fuel can only start to flow into the car when the nozzle is correctly fitted to the filler mechanism and there are eight clamps which stop the hose being pulled off by accident. Even then the fuel will flow until the vapor system, which takes away the air displaced when the fuel arrives, is opened. In theory it is impossible for there to be leaks. In the case of the fire in Austria there was very little fuel involved and speculation that it was probably caused by fuel which was left in the nozzle after Rubens Barrichello had pitted two laps before Michael Schumacher. There had been a malfunction with Barrichello's refuelling device and the team switched to Schumacher's machine. There was then not time to clean the machinery and so when Michael arrived the nozzle appears to have dropped some fuel into the side of the car as it was being attached. This caught fire. The refueller tried to take the nozzle off the car but was unable to do so because of the clamps which lock the nozzle to the car until the fuel has stopped flowing. He then disengaged the nozzle at which point there was a slightly larger fire which appears to have been caused by an accumulation of fuel or fuel vapor in the area of the car connector.
The incident looked spectacular but very little fuel was actually involved and Ferrari's four fire fighters quickly dealt with the blaze, two with small extinguisters and two with larger units. Ferrari sources said later that the team is drilled twice a year in how to deal with a pit fire.
It is worth noting that all the malfunctions of the machinery are investigated and almost all of them are traced back to operator error of one form or another.
Other stories for MAY 20, 2003