APRIL 20, 2023
Vowles banned from poaching Mercedes staff
James Vowles says he was prohibited from taking Mercedes personnel with him to Williams.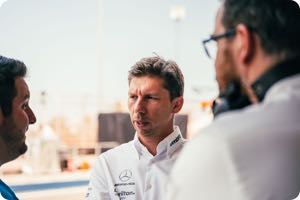 James Vowles says he was prohibited from taking Mercedes personnel with him to Williams.
Mercedes' former strategy boss succeeded the ousted Jost Capito to become Williams' new team principal this year.
He says the struggling former champions began to decline some years ago because the team was merely fighting to survive from one season to the next.
"Was enough money invested to keep up?" Vowles told Auto Motor und Sport. "The answer is no.
"When you walk through the factory, you realise that there was a lack of investment. And when that happens, you lose touch with what's good, what's great, and what's not going so well."
He defends the decline on the basis that Williams was in "survival mode for years".
"So you're not concerning yourself with what will happen in 12, 18 or 24 months. You think about what you have to do tomorrow to get through the day," said Vowles, 43.
And so Vowles' first tasks as boss became obvious - catching up with the basics.
"We had no working ERP (enterprise resource planning) software," he revealed. "But you need it to track where certain parts are. None of that existed at Williams."
Probably the easiest way to improve, however, would have been by taking staff with him from the recently-dominant Mercedes team - but it was in his contract that this is not allowed.
"That's right," Vowles confirmed. "But that's not just the case between Mercedes and me - anyone who leaves a team cannot simply take people with them.
"In my particular circumstances, I know some very intelligent people from other organisations that I'm in touch with."
The budget cap, however, while seeming to favour the smaller teams, actually makes it more difficult for Williams to spend big on expensive items like infrastructure.
"We are discussing this now with the FIA, Formula 1 and the other teams," Vowles admitted.
"If we want a meritocracy, please allow me to spend what money I have to at least match other teams on facilities. Because if things continue as they are, it will be almost impossible to catch up."
He admits that Williams may therefore need to allocate funds within the budget cap to upgrade for the longer term - potentially at the cost of the current season.
"I'd rather throw away this year to have a good foundation for next year. And I'd rather sacrifice 2024 to have even better bases for 2025," said Vowles.
"If we just throw ourselves into the now, that's where we'll stay. But I don't want to be seventh, eighth or ninth with this team.
"Achieving this requires radical and significant decisions, which we are doing."
One of those decisions, however, won't be scrapping the current situation in which Williams simply buys a gearbox from another team - like, as is the case today, Mercedes.
"In our sport, the gearbox has become very reliable. It does its job," said Vowles. "So I'm not really worried about that level of independence, and Aston Martin is proving that.
"You do need to be in control of where you're going with your aero, but Mercedes provides us with a very good power unit. We have to invest our time in other areas," he insisted.
(GMM)