JUNE 20, 2009
Villeneuve looking for an F1 drive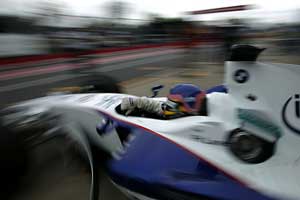 © The Cahier Archive
Former F1 World Champion Jacques Villeneuve was at Silverstone over the weekend, scouting around to see whether there is any interest from any of the teams for next year. The 37-year-old was the World Champion back in 1997 but continued to race in F1 until 2006 when he was replaced in the BMW Sauber team by Robert Kubica. For the last two years he has been trying to break into NASCAR. He has raced in two Sprint Car races but there was no team with the budget to employ him.
Villeneuve's visit will no doubt have been noted by those who are intending to enter the sport with new entries, although there seem to be fewer of these than appeared to be the case last week. However, if all goes well, the split will be sorted out and there are likely to be around 13 or 14 teams in F1. This will mean up to eight job will be up for grabs. Some of these will go to test drivers, some to new boys but there may also be an opportunity for a man like Villeneuve.
Jacques made the point that Nigel Mansell won the World Championship at 39, back in 1992 and that age is really not an issue.
Other stories for JUNE 20, 2009