SEPTEMBER 16, 2010
Victorian MP: Melbourne has got its priorities wrong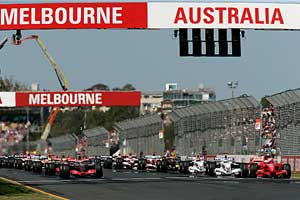 © The Cahier Archive
There are more ructions in Australia over the cost to the taxpayer of the Melbourne grand prix.
The Age newspaper reports that the government contribution to the race from the Victorian state has risen from Aus $3m 12 years ago to almost Aus $50m now and that although spectator attendance was up in 2010, revenues of Aus $24m were only two-thirds what they were in 2006.
Independent state MP Craig Ingram said: "I think it is just outrageous, it has gone past a joke and it is time both sides of politics started to seriously reconsider the ongoing cost of taxpayers bailing out this event. As a local member of parliament, when we struggle to get funding for health services, education, support services for disabled kids at schools, for roads and other infrastructure and we're bailing out a millionaires' car race for $49m, I think we have got our priorities wrong."
Major events minister Tim Holding, however, countered by saying that the economic benefit to Melbourne and the state of Victoria far outweighed the cost of staging the race.
"It was seen by about 12.8 million people in Europe this year and the massive television exposure has helped to build our world-wide reputation as a great place to visit and to live," he said. "This year's Grand Prix attracted the biggest crowd in five years and a television audience of 4.6 million in Australia, and with Mark Webber in such good form we expect next year's race will be even more exciting."
Although unconfirmed, it is believed that the Australians managed to negotiate a better deal with F1's commercial rights holders as an indirect result of Abu Dhabi's arrival on the F1 calendar. The Bahrainis were understood to have an 'exclusive to the Middle East' deal which was compromised by the Marina Bay race and received its opening race slot, which generates more residual exposure throughout the year, as a compensatory measure. Australia lost that slot as a result.
Other stories for SEPTEMBER 16, 2010