FEBRUARY 18, 2011
Vettel tops Barcelona first day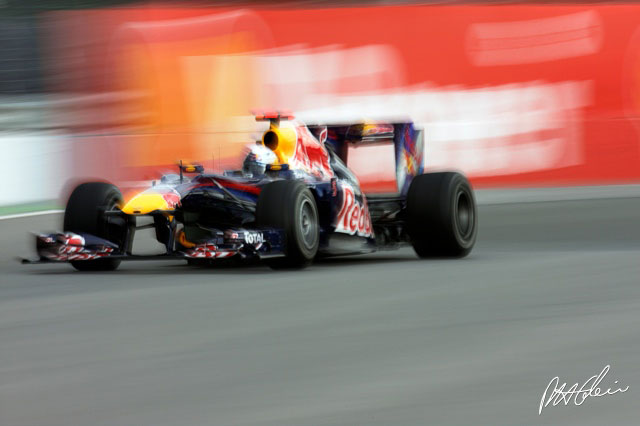 © The Cahier Archive
The opening day of the Barcelona F1 pre-season test was afflicted by mixed conditions that saw the track wet until almost lunchtime. Sebastian Vettel (1:24.374) produced the quickest lap on a short run and finished up more than a second quicker than Fernando Alonso's Ferrari F150th Italia (1:25.485).
"Unfortunately, we didn't complete many laps today, as we had a long break - longer than expected," Vettel said. "It wasn't anything big, nothing broke, but at a test if you think there might be a problem then you'd rather take the car apart and check. The boys did their best and we still got some runs towards the end of the day - not as much as we'd like, but the car feels good and hopefully we'll do more tomorrow."
Ferrari's main agenda, meanwhile, was collecting more Pirelli data. The day went smoothly with no technical problems, Alonso completing 101 laps.
Jaime Alguersuari (1:25.638) pleased local fans with third quickest time of the day in the new Toro Rosso STR06 during a programme that included a brake system evaluation.
Kamui Kobayashi (1:25.641) was fourth fastest with the Sauber C30. Technical director James Key said: "It was a wet start this morning so we decided to do a wet tyre programme. Pirelli brought the wet race spec tyre here and, as we had already tried the intermediate race spec, we used the opportunity to get to know the wet tyres. This was useful because the track started to dry up by mid-morning and we were able to learn how both the wet and the intermediate tyres behave on a drying track, which is always useful.
"We then suffered a powertrain problem which delayed us. We did another fuel system check test by running out on the track, and then worked on the tyre compounds, finishing the day with a long run. Kamui did a good job and was fairly consistent, which is good for the medium tyre on a track that is hard on tyres. It wasn't really until this afternoon that we were able to start to set up the car for Barcelona."
Jenson Button (1:26.365) finished the day fifth with the new McLaren MP4-26. Test team manager Indy Lall said: "We'd planned to begin the test by conducting a number of aero-mapping runs, but these were slightly disrupted because the track was still damp from last night's rain. As a result, we'll repeat that test tomorrow morning - weather permitting.
"We switched our focus to a series of shorter runs towards the end of the morning. These were used to evaluate set-up and establish a general direction for the afternoon's long-run programme, which gave us a very solid understanding of the behaviour of the Pirelli tyres over the course of a stint. We also satisfactorily ran our drag reduction system for the first time in anger, and continued work with the F1 hybrid. It's been a very solid day and we're pleased with our progress."
Paul Di Resta (1:26.575) was on duty with the new Force India but did only 26 laps as the team waited for spare parts, while Rubens Barrichello (1:26.912) had another disrupted day of testing for Williams.
Technical director Sam Michael explained: "We didn't have enough set-up time today. The track was moist to start and didn't start ramping up until late morning, at which point we encountered an issue with the engine. Over the break, we changed it and did just one proper run at the end of the session. All of our running was carried out on the medium compound tyre."
Michael Schumacher (1:27.512) started the Mercedes programme in Barcelona concentrating on aerodynamic evaluations and balance checks. Following the lunch break he did a successful race simulation including pit stops, completing around 90 laps in total.
Narain Karthikeyan lapped the HRT in 1:28.393, with Keikki Kovalainen recording 1:30.065 in the Lotus. Jerome D'Ambrosio got the new Virgin chassis round in 1:30.950, while Renault had a disrupted day with Nick Heidfeld (1:44.324) and Vitaly Petrov (1:35.174) sharing seat time.
"I was in the car for just an hour in the morning to do some pit stop practice," Heidfeld said. "I didn't do a proper run, just one timed lap and then came in and out for pit stops. It was the first time I have used the new traffic light system and it worked okay, but we found some small things to improve for next time."
Petrov added: "A difficult day for us because we lost a lot of time finding a problem with the KERS, but at least I got out for the final 40 minutes so that we could do the practice pit stops with our new lighting system. Because we didn't manage to do much running today, the team will give me some more time in the car tomorrow morning before Nick takes over."
Other stories for FEBRUARY 18, 2011