FEBRUARY 3, 2010
Valencia Test, Day 3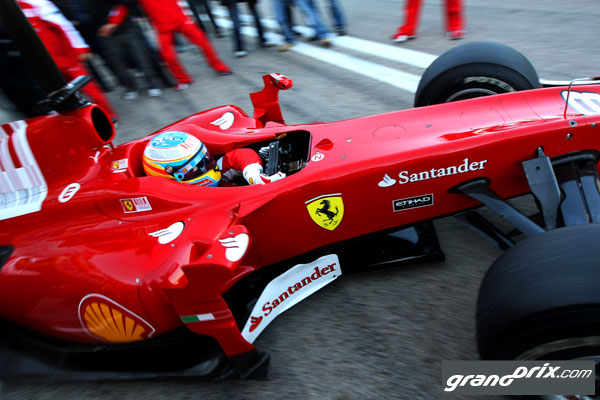 © Grandprix.com, Photo: Andrew Hone
Day three of the first pre-season test at Valencia saw Ferrari's domination continue, Fernando Alonso carrying on where his team mate Felipe Massa left off, leading the time sheets during almost the entire session. On a sunny, dry day (track temperature 72deg , air temperature 57deg), in front of an impressive crowd of more than 36.000 spectators - more than we got in Istanbul during the race day last year- the Spaniard gave his supporters plenty to cheer about as he set the quickest time of the week in Valencia. And that on his first day at the wheel of a Ferrari...
Within two hours Alonso had beaten Massa's best mark of the week, only to improve it even further on a couple of occasions during the morning. He then reverted to longer runs, with his pace impressing his rivals as everyone admitted Ferrari seemed to have the quickest car in the field. He was cautious when he spoke to the press however: I'm really happy the long wait is over and that more than four months after signing the contract with Ferrari I finally got the chance to drive the new car! But it's way too early to speak about the performance of the car because we didn''  t even try to go fast. We carried out our program as it was established, as we wanted to check the reliability of the F10. I did 127 laps today, the car managed more than 350 laps without any problem during these three days, so we achieved out goals."
He added: "There is no point in asking me if this is a winning car because we won't know that until we start working on performance related issues in the second Jerez test. I'm happy with the way things are going, Felipe did a great job in the two days he was in the car, I felt quite good in it from the first run, but we're not getting carried away until we know exactly how fast we can go compared to the others. And that's something we won't know for another couple of weeks."
Pedro de la Rosa completed Sauber's promising week by setting the second quickest time of the day: "I felt much more comfortable inside the car than on Monday and things went very well for us today. We did some pretty big changes in the car's set-up and they all worked well, with the car being very responsive to the changes, which is a good thing. I'm impressed with the car and the team, but without knowing how much fuel everyone had when they set their best times it's impossible to know where we stand, at the moment. The feeling is good, but there's obviously a lot of work to be done before we get to the first race."
De la Rosa had an incident with Hulkenberg early in the session, which damaged quite a bit of bodywork on the Sauber C29: "I was going much quicker than him, and I thought he was going into the pits, so I passed him. But as soon as I drew alongside him I understood he was not looking in the mirrors, didn't know I was there and we touched. It's a shame but these things happen. I hope next time he'll look in the mirrors."
Michael Schumacher set the third quickest time of the day, ahead of Jaime Alguersuari, as he returned to action after one day off. His day session came to an early end however, when an hydraulic problem forced him to abort a long run. With too much work to be done and not enough time to complete it before the end of the day, Schumacher had to get out of his MGP W01 about one hour ahead of schedule.
Michael was still quite happy, saying: "Yes, I'm really happy. I had a good first day, with a rather short run on Monday. Today we had a full day. A little hydraulic leak has stopped us right now. But, all in all, very positive feedback. The car is running very smoothly, very nicely. I'm very positive. The main focus right now is to look at the reliability, do as many laps as you can, and don't worry too much about the lap times. I guess you look at them, but you need to focus."
On the comparative competitiveness of his car, Schumacher answered: "I'm thinking we will be competitive, but whether this is a winning car straightaway or not, that's another story. For me that is not so important - it's a long season. We need to be there and taking points from the beginning. I wouldn't expect to be winning right from the beginning. It wasn't something that I was aiming for and expecting to be the case. But we need to be strong enough on development."
Interestingly, he said his return to action had been easier than expected: "Actually it's been much easier than I anticipated. I thought it would need a bit more time but it went pretty quickly."
Jaime Alguersuari (who replaced Bourdais last year without ever testing) had his first day of testing in Formula One and was fourth quickest with Toro Rosso's new car. Similar gearbox problems that hampered Buemi on Monday delayed his progress, but the young Catalan was delighted with the way things had gone: "We came here without big expectations, as the goal here was just check if all the systems work and we soon found out the car was quick and consistent. The only problem was the gearbox issue but the car felt really good. For a team like Toro Rosso to make it to the first test and to have a positive result is quite encouraging and I'm very happy. Out of ten I'd give us an eight for the way the test went."
2009 World Champion Jenson Button had his first day of running with McLaren, and seemed satisfied: "It was a long day! We finished up at about 1AM last night trying to get the seat right in the car. Because you obviously have it made in the mock-up, but it is always different when you get in the car and when you get out on the circuit it is always a bit different as well to what you expected. So we have been doing a lot of work to make me comfortable in the car, initially it wasn't quite where I wanted it to be, I was sitting quite high in the car.
We have done a lot of work today and it has been really useful. In a way it would have been nice to get some more testing done, set-up work, but this test was always to get used to the environment inside the cockpit, get used to working with the team and to run through all the checks that you always do at the first test. So it has been very useful, this morning was tough though. We have had to change a lot within the car, but I fit well now, which is good. I feel comfortable and have a good height in the car and that is always important for your confidence."
Echoing other drivers, Button didn't want to jump to any conclusions or make comparisons about the speed of his car, despite the immediate confidence he had felt at (last year's) Brawn GP's first test: "Well it's difficult to say, because first of all this is not the best circuit to get a feeling for how the car is going to be at the start of the season - because it is very different to any other circuit we race on so the balance is very different. But today it's been a busy day of finding my way around the cockpit. Because at Brawn it was pretty much the same seat, everything worked the same inside the car and it was also the same in the way the car worked. There is a lot more to get your head around here and to work on before I would comment on anything like that. From Lewis's comments yesterday he is happy, we all want more. That's the way we are, but we have a good base to work with."
Vitaly Petrov did a good job on his maiden run in Formula One in the Renault, and got to competitive times quickly. The Russian admitted he had a lot to learn, but was very happy with the experience: "I feel pretty happy with the big job we have done. We completed the whole program and that allowed me to understand the car, how it works and how it handles. We did a good job, I didn't have any incident and we didn't have any technical problem with the car, so it was a good day."
On finally jumping into the car, Petrov said, "I was not nervous, I remained calm and focused on what I was doing and tried to remain quiet. In the end everything was good." But he admitted the R30 felt unlike anything he drove before: "You cannot compare it with a GP2, it's another world; it's much quicker and much more powerful; it's a completely different car and a big step for me."
Nico Hulkenberg was slowest on the day, taking over the Williams FW32f rom Rubens Barrichello. The GP2 champion focused on heavy fuel loads and had a trouble-free day: "It was a good day and finally I got to drive the car in anger. The first impressions are quite positive, regarding both the chassis and the engine, but we know there's a lot of work to be done before the start of the season. We managed to complete our program here, we know we have a reliable car and engine, which is important, and in a later test we'll start working on the performance program."
Hulkenberg admitted he was learning from his very experienced team mate, Rubens Barrichello: "It was interesting to see him drive and to hear his comments, both from the car and in the technical meetings. He speaks very good English and manages to explain very well to the engineers what the car is doing. I had a few conversations with him today, between runs, to tell him what I was feeling in the car and it was very positive."
Now the teams head south to Jerez de la Frontera, where these seven teams will be joined by Red Bull, Force India and Virgin. Testing will resume next Wednesday for four days of work.
BEST LAP TIMES
1. F. Alonso (Ferrari F10), 1m11,470s (127 laps)
2. P. de la Rosa (Sauber C29), 1m12,094s (80)
3. M. Schumacher (Mercedes MGP W01), 1m12,438s (82)
4. J. Alguersuari (Toro Rosso STR5), 1m12,576s (97)
5. J. Button (McLaren MP4-25), 1m12,971s (82)
6. V. Petrov (Renault R30), 1m13,097s (75)
7. N. Hulkenberg (Williams FW32), 1m13,669s
Other stories for FEBRUARY 3, 2010