JANUARY 21, 2013
Toto Wolff leaves Williams to join Mercedes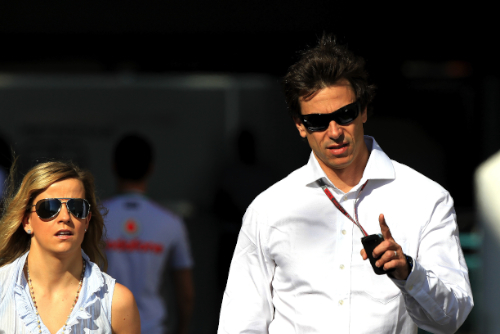 © wri2.net
Toto Wolff is to leave Williams and will take up a management role as executive director of Mercedes Grand Prix, Ltd. As part of the deal Wolff and Niki Lauda have bought into the team.
Wolff has left his role as a director of the Williams F1 team, but will retain his shares. On leaving Williams, Wolff said, "I am leaving Williams on good terms and I will miss the team and friends I have made there. I'd also like to wish Frank and the whole of Williams the best of luck for the future." As part of the deal, Wolff will be focussing on the Mercedes F1 team, but will also be coordinating Mercedes' DTM efforts, taking over the job the Norbert Haug played.
Last fall parent company Daimler had bought back the 40% shareholding that the middle-eastern investment group Aabar had owned, and it is believed that these shares have been bought by Wolff (30%) and Lauda (10%), with Daimler retaining 60% of the team.
Wolff, Lauda and Ross Brawn will jointly manage the F1 team. Wolff is rising in power in F1 circles, as he now has a shareholding in two Formula One teams.
Daimler AG chairman, Dr. Dieter Zetsche said, "As an entrepreneur, investor and motorsport manager, Toto Wolff has proven that this sport runs in his blood; at the same time, he is also well aware of the economic necessities of the business. With Toto Wolff, we have gained for our Formula 1 team not only an experienced motorsport specialist, but also a longstanding enthusiast of the Mercedes-Benz brand. Together with him and Niki Lauda, we will further develop our motorsport activities and guide our Silver Arrows into the next era."
Wolff said, "Mercedes is one of the most important participants in motorsport worldwide. I am not only a big fan, but also a longstanding friend and enthusiast of the brand. I am looking forward to the challenge and, along with preparing for a successful racing season, also want to focus on the targeted promotion of new talent."
Sir Frank Williams said, ''I would like to thank Toto for his hard work, dedication and commitment to the team during his time as a Director of the Company. He was a key support to me as Executive Director last season, deputising at a number of races when I was unable to attend. However, positions such as the one offered to him by Mercedes do not come around often. Toto has a long history with them and I certainly was not going to stand in the way of him accepting this once in a lifetime opportunity. Toto will retain his shareholding in Williams and will always have a place at Grove but make no mistake; we will fight him hard on the racetrack! I am sure he will be a strong asset for Mercedes and on behalf of the whole team I would like to wish him the best of luck in his new role. I'm lucky to have a very professional group of people around me and the Company's Executive Committee will continue the work they have been doing to ensure a successful future for the business."
Other stories for JANUARY 21, 2013