MARCH 30, 2002
Tires and more tires...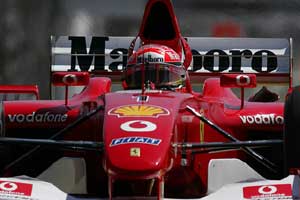 © The Cahier Archive
AS we exclusively predicted yesterday there were problems over the tire allowances in Brazil with the FIA agreeing to allow Michael Schumacher to have four sets of tires for the 2001 car and four sets of tires for the 2002 car on Saturday. The World Champion will only be allowed to use four sets of tires in total but rival teams are complaining that it is unfair that the Ferrari team is allowed to have twice the number of tires available so that Schumacher can switch backwards and forwards between the new Ferrari F2002 and the older F2001 during qualifying. The rules state that "from among the twenty-eight dry-weather tires chosen for each car for qualifying practice, warm up and the race, the FIA technical delegate will choose at random 16 tires which are the only dry-weather tires which such car may use in qualifying practice".
The meaning of the rule is fairly clear but it seems the FIA has decided on this occasion to interpret the rule to allow Ferrari to have tires for both the F2001 and the F2002. The problem is that the wheel rims are different and so wheels from one car do not fit on the other.
"I can see why they want to do it," Williams technical director Patrick Head said, "but in our understanding it doesn't comply with Article 80c of the F1 sporting regulations.
FIA sources said that Schumacher will only use 16 tires so the arguments are not relevant.
This is an odd interpretation of the rules but the teams will note down the precedent and see what happens if the argument is raised again with another team.
Other stories for MARCH 30, 2002