JUNE 9, 2003
The trouble with Pizzonia?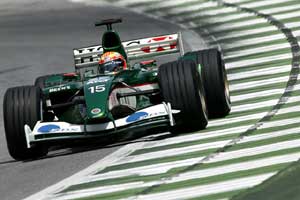 © The Cahier Archive
Sir Jackie Stewart has been giving his opinion of Antonio Pizzonia's F1 career to date and reckons that the Brazilian is overdriving his Jaguar.
"Antonio has a bucketful of talent but it is just a question of getting him to exercise it," Stewart told THE SUN newspaper in London. "Natural skills and driving by the seat of your pants is fine - but you have to channel it productively. The trouble is Antonio has been trying too hard since making his debut and when that happens you go slower. He has tended to over-drive in order to impress. When I entered Formula 1 in 1965 with BRM, the car had a 1.5 liter engine and it was much easier to make the adjustment. These days young drivers are having to cope with between 800 and 900hp. I also walked into a big team but I had Graham Hill to help me and guide me through the opening races.
"At Jaguar you have Mark Webber who is 26, and only in his second season, and young Antonio. I have won on most circuits used these days and feel I can help Antonio with his driving, whether it is on the mental side or the lines he needs to take on the circuit. I'm confident that with a little guidance he will start doing really well."
Other stories for JUNE 9, 2003