APRIL 1, 2019
The sandbagging whispers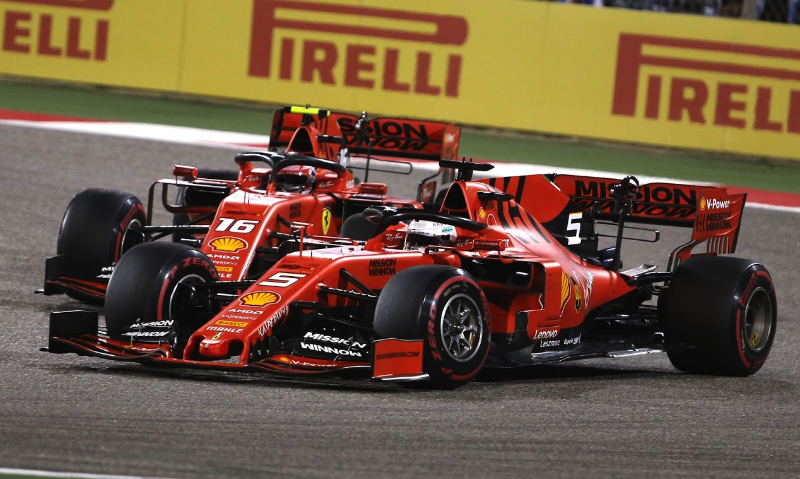 © RV Press
By Dan Knutson in Bahrain
Ferrari was clearly faster than Mercedes throughout the Bahrain Grand Prix weekend. But for the second consecutive race Mercedes finished first and second.
Lewis Hamilton acknowledges that the only reason he won the race in Bahrain and his Mercedes teammate Valtteri Bottas finished second was because the Ferrari drivers had problems. Charles Leclerc lost first place when his engine developed a problem, and Sebastian Vettel spun and then lost the front wing in the other Ferrari.
"We were outperformed this weekend," Hamilton said after winning in Bahrain.
Ferrari showed a lot of speed in preseason testing. Mercedes arrived at the first race in Australia expecting to be slower than Ferrari. Instead, Mercedes finished first and second in Australia while Ferrari struggled to find pace.
"We were outperformed this weekend," Hamilton said. "We were surprised in the first race (in Australia). I hear whispers that people think we were sandbagging (in preseason testing) or not telling the truth or all those things. We said it how it was. When we went to the first race I was presented where everyone's positions were. From our estimates and understanding of potential fuel loads and power modes and all these things, we were behind from three to five tenths.
"And we got to the first race and they (Ferrari) didn't have any pace all of a sudden. We came out of the first race incredibly surprised and really, really happy to have had such a great result as it had been a hard winter for the team.
Hamilton and Mercedes know that Ferrari should have won in Bahrain.
"Naturally you have lucky weekends and this is one of those," he said. "We have to go away and take the points and be grateful for them, as you never know when at some stage it's flipped and we have an unfortunate weekend. We can't be jumping around in excitement because we know, and I know, that Charles (Leclerc) did the job this weekend and should have won. Unfortunately reliability got in the way for him."
Other stories for APRIL 1, 2019