SEPTEMBER 16, 2002
The return of Jos Verstappen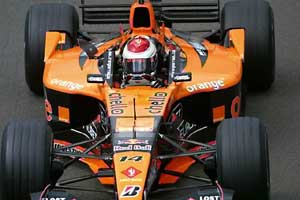 © The Cahier Archive
Jos Verstappen now seems certain to be named as one of the Minardi drivers for the 2003 season and there is much excitement in Holland that the country's best known racer will soon be back in action after a year off caused by Verstappen being fired at the last minute at the start of this year by the Arrows team. Verstappen and Arrows are still deep in legal wrangling and Jos is one of the creditors on the next winding-up petition against the team.
Verstappen's Formula 1 career has been a frustrating one. In the autumn of 1993 Jos - then the veteran of just two years of single seater racing - sat in an Arrows for the first time at Estoril. His times were so impressive that both McLaren and Benetton wanted to sign him. Benetton won that tussle and he became the team's test driver for 1994. Then JJ Lehto hurt himself in a pre-season testing accident Jos was thrown into the F1 world at the very deep end, as team mate to Michael Schumacher. He was in the right place but at the wrong time. In his third race he was launched into a huge accident by Eddie Irvine but emerged unscathed. In the midseason he was the victim of a dramatic pitlane fire but bounced back to finish third in Hungary. Despite this he was dropped by the team in an unpleasant fashion before the end of the year.
After that he drifted to Simtek until it closed down in the midseason and from there to Arrows in 1996, racing strongly and surviving a very heavy accident at Spa. For 1997 he had a seat at Tyrrell. He made his fourth F1 comeback with Stewart midway through 1998 when the team finally dropped Jan Magnussen, but it was another unhappy alliance that failed to gel. Once again Verstappen was obliged to sit on the sidelines but found his way back into F1 with Arrows for 2000 and 2001 and on occasions raced impressively well.
Verstappen has never achieved what he might have achieved and so his chance with Minardi must be seen as his last dance with the sport. With a Cosworth engine and a decent chassis there is no reason why the team should not go well in 2003. As Eddie Irvine showed at the weekend at Monza, if things are going well there is no reason why a Cosworth-engined car should not score podium finishes.
Other stories for SEPTEMBER 16, 2002