JULY 23, 2003
The end for Silverstone?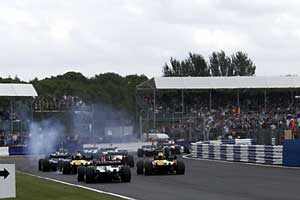 © The Cahier Archive
The news that the British racing Drivers' Club has rejected a deal put to it by all parties involved in the Silverstone negotiations is disastrous news for the short-term future of the British Grand Prix. It is not altogether surprising given that the deal proposed was agreed by all parties involved except the BRDC at an informal meeting on Sunday at Silverstone. Our sources say this meeting was attended by representatives of the Department of Trade and Industry, the regional development agency, Formula One Management and Octagon and that a solution to the problem was agreed which would allow the race to continue without the BRDC having to borrow money to fund the rebuilding work necessary. The problem, it seems, was that the BRDC had to accept a lower rent and the club was not willing to do that.
The BRDC now has 30 days to ensure that the race goes ahead next year without problems. If not (and it is very unlikely to happen) Britain may be left off the World Championship calendar in 2004.
There is not doubt that the way this has been done has not pleased the BRDC but one has to ask why this route was adopted rather than allowing for open negotiations between all parties. The only obvious conclusion is that the other parties did not think that the BRDC had anything valid to contribute to finding a solution and that raise other questions about why this would be the case.
If the race is lost it is expected that there will be ructions within the BRDC.
Other stories for JULY 23, 2003