FEBRUARY 2, 2009
Testing ban to be modified?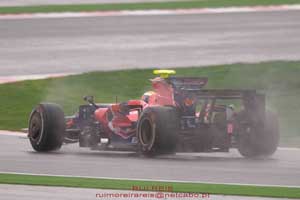 © Rui Reis
The on-season testing ban agreement is about to be modified, according to test team personnel who attended the recent testing sessions in the Algarve. With KERS giving a lot of trouble to some of the teams, as the batteries lose performance quite quickly and are still far from being fully operative during an entire race distance, there are now moves for at least three test sessions to be held during the season, to help improve the reliability.
As one of the measures to cut costs, the 10 Formula 1 teams agreed to cut testing during the year to 15,000 kilometres and introduced a testing ban that should start on the week of the Australian Grand Prix and go until the last race of the season, which will take place in Abu Dhabi. This was certain to lead to the disbandment of all test teams and there are reports that Renault has already started negotiating the end of contracts with members of their test team.
But in Algarve, the test team managers got together to discuss the situation and one admitted there were talks going on between the teams to allow for at least three test sessions during the year. According one top team member, "KERS is new for everybody and no one has achieved the level of reliability with it that we would like to have. It makes sense to have a transitional year, with less testing than before, but with a few tests early on in the season, to help everybody get on top of their problems. It's not on everybody's interest to see only five or six cars finish races, so we're trying to get an agreement on a change of the rules for 2009."
It has to be noted that the testing ban was not imposed by the FIA, but is part of a general agreement by all the teams, thanks to their commitment to FOTA. To reverse this agreement all of the teams will have to accept the change, and that's where the plan might find resistance.
Normally, though, the smaller teams would try to block this change, but there are signs that this may not be the case. Both Toro Rosso and Force India are not even certain of having their new cars ready for the test session booked for Jerez on March 1-4, and at this point have only confirmed they'll attend the following session, in Barcelona, one week later, so there's a good chance they'll get to Melbourne with just four days of pre-season running. They would benefit from additional testing in the first half of the season and, therefore, may be willing to accept this change. Also, whoever buys Honda's Formula 1 team will almost certainly get to Australia having not tested at all.
Other stories for FEBRUARY 2, 2009