SEPTEMBER 20, 2014
Sixth engine penalty inevitable now for Vettel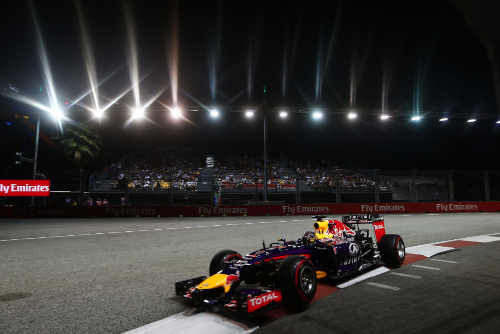 © Active Pictures
Sebastian Vettel's bad season continued to get worse even at the Singapore circuit he humbled at the height of his dominant powers.
As the German and Red Bull struggle to get to the bottom of the reigning quadruple world champion's 2014 troubles, he has yet another different RB10 chassis at his disposal under the Asian city-state's popular lights.
But it was not the car, but the Renault 'power unit' that was not working in Friday practice, leaving Vettel without anything to drive at all.
And the news got even worse -- with Vettel already running low in his allocation of five units for the whole season, the Singapore engine was "lost" amid Friday's troubles, Renault chief Remi Taffin admitted.
"The engine was at something like half-life, so it was quite a surprise and quite a shame, because we still had a small chance to go through the season without introducing a sixth unit," the Frenchman added.
"With this failure, we will have to commit to a sixth ICE (internal combustion engine)."
The sixth engine will carry with it a ten place grid penalty, although it will not necessarily have to be served on the tight and twisty streets of Singapore.
"It was a Friday engine," team boss Christian Horner said when asked about Vettel's Singapore failure.
Vettel commented: "Ideally we would have used it in Friday in Japan too. Obviously we can't now.
When he managed a few laps at the end of the second practice session on Friday, it was with the Singapore 'race' engine on board.
Red Bull and Renault will now be looking at the forthcoming races and deciding where it can best afford to slide Vettel ten places down the grid.
Taffin said: "It is now a question of where we are going to strategically introduce it, instead of how we are going to avoid it."
Team boss Christian Horner said: "Sebastian does not seem to have much luck at the moment."
Vettel tried to sound pragmatic.
"We already knew that eventually we would have to use another one (a sixth engine) this year. So I don't think this changes too much of our planning."
But his former teammate Mark Webber has said this year that Vettel seems to have inherited his unlucky car of past seasons.
Vettel, however - although a strict adherent to the games of superstition - prefers to put the difference between his and teammate Daniel Ricciardo's 2014 seasons down to chance.
"I think there is no reason," he said.
"Of course, there is always a reason why something breaks, but I mean there is no explanation as to why it happens to one car and not the other."
(GMM)
Other stories for SEPTEMBER 20, 2014