AUGUST 22, 2011
Schumacher celebrates 20th anniversary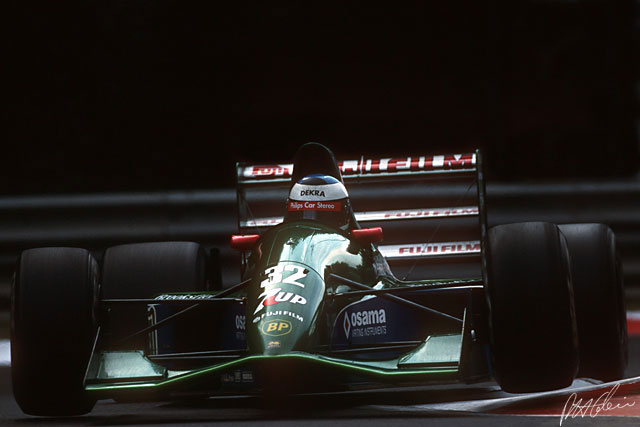 © The Cahier Archive
As F1 returns from its summer break and heads for Spa Francorchamps this weekend for round 12 of the championship, Michael Schumacher will celebrate the 20th anniversary of his F1 debut at the classic circuit in 1991.
Back then he qualified seventh in a Jordan before retiring early, stunning regular driver Andrea de Cesaris as he stood in for Belgian driver Bertrand Gachot, who has been jailed for spraying CS gas in the face of a London cabbie after a traffic altercation!
"The race in Spa will certainly have a special touch to it this time," Schumacher says. "A lot has changed in those 20 years, but one thing has not: the track is still sensational. I just love the great nature of the location and the layout. To me, Spa remains my 'living room', because it has been the stage for so many things that have been remarkable for my career. That's why this time I would like to specifically send a big thank-you to all my fans for their loyalty and support. We are all returning from the summer break with fresh motivation and energy."
During qualifying at Spa, DRS can be used on 63% (4.4 km) of the circuit with only Monza having a higher percentage of DRS usage although the FIA has announced that DRS will not be permitted through the daunting Eau Rouge.
Spa simulations are also regularly used for engine dyno testing, given that 80% of the lap distance is at full throttle, including for 23.5 seconds from La Source to Les Combes.
Ross Brawn, who has worked with Schumacher for 17 seasons, said: "It's been an honour and a privilege to work with Michael and I look forward to more good times ahead.
"Spa is one of those tracks universally loved by drivers and fans, and the racing is always thrilling, usually helped by a large dose of inclement weather."
Typically, weather charts are predicting heavy rain showers for first practice day at Spa, although attempts to look any further ahead than that are generally futile.
Other stories for AUGUST 22, 2011