APRIL 21, 2023
Sainz denies Audi rumours
Carlos Sainz has angrily rejected claims he is Audi's number 1 driver pick for 2026.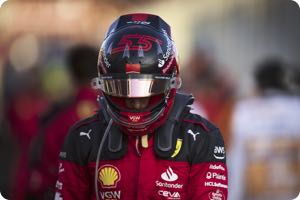 Carlos Sainz has angrily rejected claims he is Audi's number 1 driver pick for 2026.
The claim was made this week by the veteran Formula 1 journalist Roger Benoit, writing in the Swiss newspaper Blick.
"The first serious rumour emerges from Spain," Benoit said. "Ferrari driver Carlos Sainz is said to be at the top of Sauber CEO Andreas Seidl's list."
28-year-old Sainz's legendary world rally champion father, Carlos Sainz, drives for Audi at the fabled Dakar Rally.
His son, however, rejects the latest Formula 1 rumours.
"My intention is to stay at Ferrari for many years," Sainz said at an appointment with his sponsor Estrella Galicia.
"I don't even understand how they are talking about what can happen in 2026 when I still don't have a contract for 2025," the Spaniard added.
"It annoys me that invented and uncorroborated rumours like this come out."
But while Sainz seems fully committed to Ferrari for now, he admits that he expected a more competitive Maranello-built red car to race this season.
"We have been surprised by how quick Red Bull are and how other teams like Aston Martin have improved," he said.
"It is true that, with the advantage Red Bull have right now, we are going to have to improve a lot if we want to be in the fight for victory.
"At the moment it means that something needs to happen in the races to them and also Aston Martin - we just need to focus on what we have."
This week, Ferrari's appeal against a penalty that dropped Sainz out of the points for a clash with Fernando Alonso in Melbourne was rejected by the FIA.
Sainz is fifth overall in 2023 so far with 20 points compared to fourth-placed Lewis Hamilton's 38.
"If we had not had the penalty in Australia, we would have another 12 important points which in the end they still don't let me have back," he said.
"But it is what it is."
(GMM)