SEPTEMBER 19, 2023
Sainz could be new Ferrari number 1
The Italian press is openly wondering whether Ferrari has a new 'number 1' driver.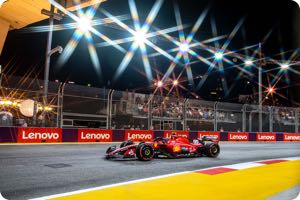 Carlos Sainz has appeared more competitive than de-facto Ferrari favourite Charles Leclerc since the summer break, with back-to-back poles at Monza and Singapore and a second career victory on Sunday.
But that doesn't mean that he has now replaced Charles Leclerc, former F1 driver Timo Glock told Sky Deutschland.
At Ferrari there is no clear number 1. In my opinion, both drivers are on equal terms.
However, Sainz's speed and strategic intelligence and confidence in Singapore now has some of the most respected names in Italian media questioning whether a hierarchy shift has actually taken place.
Ferrari finds itself in the unexpected situation of having two captains, Leo Turrini told Sky Italia. Before, Leclerc was the leader - but now Sainz has climbed the hierarchy.
La Gazzetta dello Sport's Giusto Ferronato agrees: "The victory complete with pole position has formally opened a debate - that of the duel for internal supremacy with Leclerc.
After Singapore, is it now a fact that Carlos has overturned the hierarchy?
The same sports newspaper's Luigi Perna said: "Sainz was perfect. Like (Gilles) Villeneuve at Jarama in 1981.
"He is intelligent like Niki Lauda and smart like Alain Prost. Until now Sainz was a solid and reliable driver. After Singapore, he is a champion.
He has changed the game and enters the class of drivers capable of doing special things like Hamilton or Alonso.
An editorial at Tuttosport continued: "Why Sainz is now the leader. Was Singapore the turning point?
What we saw was tactical genius like a computer driver such as Prost but with the passion of a Spaniard.
And Giorgio Terruzzi wrote in Corriere della Sera: He seems in love, with light in his eyes. The confidence of a leader. What has changed with this superb demonstration?
(GMM)