JULY 4, 2013
Rosberg and Hamilton drive historic Silver Arrows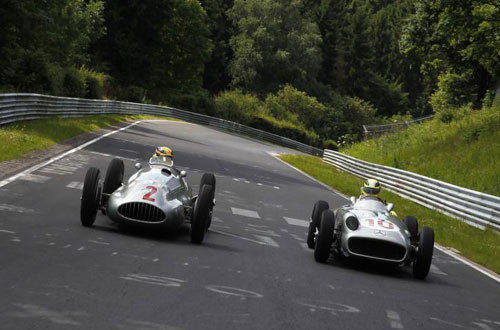 Photo: Mercedes GP
In advance of the German GP at the Nurburgring, Nico Rosberg and Lewis Hamilton took two historic Mercedes Grand Prix cars out on a lap of the old Nordschleife circuit.
Hamilton drove a Mercedes Benz 1938 Type W 154. Rudolf Caracciola drove the W 154 to win the 1938 European Championship, Richard Seaman winning the German GP that year.
Rosberg drove a Mercedes Benz 1954 Type W 196, in which Juan Manuel Fangio and Stirling Moss won 9 of 12 races, Fangio taking the title.
Other stories for JULY 4, 2013