MARCH 10, 2011
Rookie Perez on top in Barcelona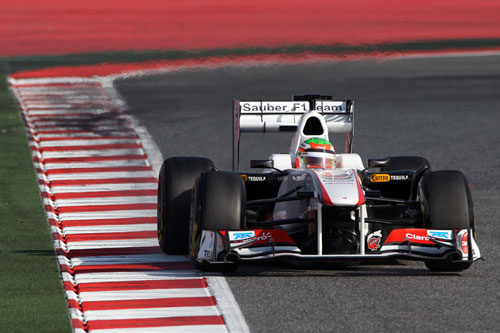 © WRI2
Sauber's Mexican rookie Sergio Perez set the quickest time of the pre-season Barcelona test's third day when he lapped the Ferrari-powered C30 in 1m21.761s.
"We did set-up work in the morning followed by a qualifying simulation before the lunch break and a race simulation in the afternoon," explained technical director James Key. "The qualifying simulation was the first ever for the C30 and for Perez and was impressive, but the planned race run was interrupted after six laps due to a powertrain problem, then resumed."
Perez lapped in 1:22.042 on the soft Pirelli tyre before setting his headline time on the supersoft compound. "My last day of testing, I feel ready and can't wait to race," enthused the first Mexican F1 driver since Hector Rebaque.
Behind Perez, the expected early season pace-setters, Ferrari and Red Bull, were next up with Felipe Massa (1:22.092) and Mark Webber (1:22.466).
"We had a another good day," the Australian said. "I feel ready for the first race now and while you want a good run at your home race, I don't want to jinx with it any forecasts! But in terms of team preparation it's the best we've ever had going into the first part of a season in terms of reliability."
Williams (1:22.637) had a much more productive day after their KERS issues of yesterday. After completing checks and mapping work with the new aero package they went through a range of mechanical set-ups, the only hiccough being the failure of a high mileage rear suspension component late in the afternoon.
"We had two aims today; to work on new tyre runs and to carry out some long runs," Rubens Barrichello explained. "The new updates seem to have made the car more consistent and I was happy with our long run pace compared to last week, although there's still some work to be done to improve our performance on the first lap on new tyres."
Michael Schumacher (1:22.892) was quarter of a second adrift of his old Ferrari sparring partner as he had his first experience of the Mercedes update package. His initial impressions were positive as he concentrated on longer runs in the morning and shorter ones in the afternoon.
Nick Heidfeld (1:23.541) and Vitaly Petrov (1:24.233) shared driving duties for Lotus Renault GP, the Russian's morning running interrupted by a KERS problem while Heidfeld concentrated on set-up work in the afternoon, running the medium and soft Pirellis.
Splitting the pair was Heikki Kovalainen (1:23.990) with 'the other Lotus.' The Finn had much the better of the team's running as he shared the day with Jarno Trulli, who managed just six laps in total on a morning afflicted by gearbox problems.
Adrian Sutil (1:24.334) took over from Paul di Resta in the Force India VJM04 and did a full race simulation that included some safety car exercises. After Toro Rosso's strong pace yesterday with Sebastian Buemi, Jaime Alguersuari (1:24.779) concentrated on long runs and a half-race simulation. With more pit stops clearly going to be part of the new season, Toro Rosso's chief engineer Laurent Mekies reported that the team has carried out no fewer than 60 stops in the past two days!
The hobbled Trulli apart, Jerome D'Ambrosio (1:27.336) propped up the time sheet in the Virgin.
Other stories for MARCH 10, 2011