JUNE 4, 2023
Rival Madrid, Barcelona bids good for Spanish GP
The Circuit de Catalunya needs to up its game in order to keep the Spanish GP.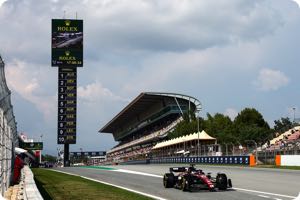 The Circuit de Catalunya needs to up its game in order to keep the Spanish GP.
That is the warning of F1 CEO Stefano Domenicali, with the paddock abuzz this weekend about the Spanish GP moving from Barcelona to Madrid for the future.
For this weekend, the Circuit de Catalunya scrapped the slow chicane and revived the exciting and treacherous two sweeping right handers.
When asked if he has taken the final sweeper flat-out yet, Max Verstappen joked after qualifying: "You want me to try that one?
"Yeah, over time the cars are improving so I think next year - if we come back - then probably it's flat."
'If' is currently the big question, even though Barcelona still has three years to run on its current Formula 1 race contract.
"It's one of our most classic grands prix," Domenicali told the Spanish daily AS.
"We have conversations, we extended for 2025 and 2026, but there is a need to renew many things, which is what they are doing.
"Our friends in Barcelona know it, I am always very transparent with everyone. The things I see happening now should have come sooner, but that's ok. They are investing, they are working to improve the experience for the fans.
"We will see. But as I say, competition helps the system to grow."
Domenicali hit back at the notion that he is becoming a sort of undertaker for some of the most historical circuits in F1 history.
"Not at all," the Italian said. "Sometimes I read that and laugh.
"History is valuable, but what I am saying is that if you go from historical to old, obsolete, that is very different."
Domenicali also admitted that "it's a fact" that a rival bid is now underway with the Madrid project.
"We have contracts to honour," he insisted. "So in the next, I don't want to say months but we will make the right decision for the good of the sport.
"But if you ask me if there is room for two grands prix in Spain, I don't think it's possible but I don't want to rule it out."
One potential solution could be a scheme in which a single annual Spanish GP is alternated between Barcelona and Madrid each year.
"Yes, it's something we'll discuss and see about," said Domenicali. "I do not want to rule it out but it is not the centre of the discussion.
"You have to understand how the two projects want to evolve. But what I can guarantee is that Spain will continue to be on the calendar."
(GMM)